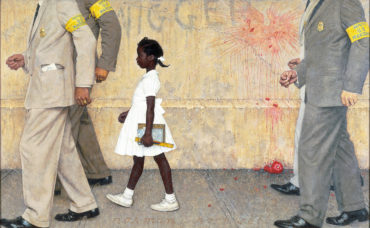 A professor at GWTeach, the George Washington University teacher training college for STEM majors, has voluntarily stepped down after saying the "N-word" while referring to "The Problem We All Live With," a painting by Norman Rockwell.
The painting depicts a young African-American girl walking to a recently integrated school, escorted by U.S. marshals, with graffiti — including the racial epithet — clearly visible behind her.
This day in 1960, 6-year-old Ruby Bridges braved a mob to attend William Frantz Elementary in New Orleans. This brave girl was the first child of color to attend the all-white public school. Norman Rockwell's classic painting, "The Problem We All Live With" is poignant. #courage pic.twitter.com/epOJdFSmx5

— Justice Jennifer Brunner (@JenniferBrunner) November 14, 2021
Alicia Bitler is a white woman who holds a doctorate of curriculum and instruction from George Washington University, according to her faculty bio.
She was teaching the course "Anti-Racist STEM Education" when the Jan. 18 incident occurred, referring to it as an "oops moment" just minutes later, stated The GW Hatchet, which reported on the story and subsequent fallout.
Students filed official complaints with the administration, and the Black Student Union hosted a virtual town hall the following Friday to discuss the incident.
More than a third of the class sent also sent a letter to interim university President Mark Wrighton recommending that the university reconsider its policies on choosing faculty, said Jordan Harzynski, a college sophomore.
Bitler "has asked to be relieved of their teaching responsibility in the class, and [the Graduate School of Education and Human Development] began actively assembling a number of options to minimize further disruption," wrote university spokesperson Crystal Nosal in an email quoted by The Hatchet.
Against administrative guidance, before stepping down, Bitler held a class discussion Jan. 20 about her own use of the word.
"The more I am educating myself, the more I am becoming aware of how damaging it can be to hear that word in a space that is supposed to be safe," Bitler said in an email quoted by the student newspaper.
President Wrighton responded to the incident with a letter that declared his intention to find a new professor to teach the course and validated students' grievances.
"I am deeply troubled by your expression of hurt, disappointment and frustration," Wrighton said in the letter."As our country grapples with an ever-present struggle for racial equity and justice, it is important to me for you to know that I want to see every faculty member, every staff member and every student strive to live out the University's stated commitments to diversity and inclusion."
Bitler is still listed as the professor for a different GWTeach course, Perspectives on Mathematics in Science.
MORE: Another 'N word'-in-context incident costs a university employee her job
IMAGE: The Kennedy Center
Like The College Fix on Facebook / Follow us on Twitter