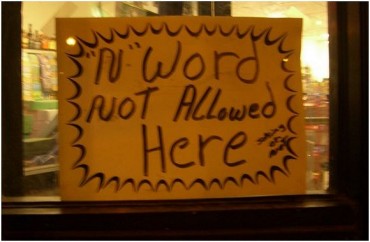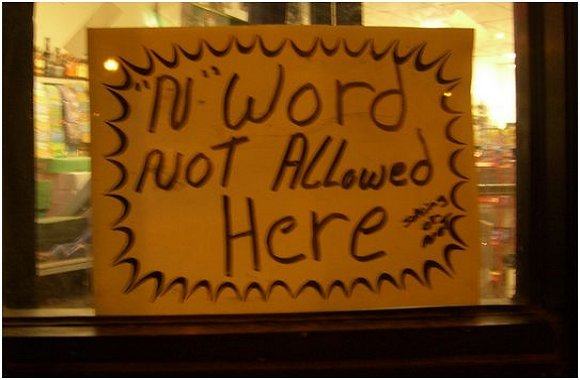 "I understand that this was a free speech event […] but her example was upsetting"!!
An attorney for the University of North Texas has resigned following her use of the N-word at, ironically, a campus discussion titled "When Hate Comes to Campus."
Even more ironically, Assistant General Counsel Caitlin Sewell said the epithet as an example on "how the First Amendment can protect offensive language."
According to the North Texas Daily, Sewell said "If I said something offensive … you know, you can say a lot of offensive things in here because it's impossible to talk about the First Amendment without saying horrible things. Um, you know, 'You're just a dumb n—-r and I hate you.' That alone, that's protected speech."
At the end of the discussion, Student Government Association President Yolian Ogbu told Sewell directly "I hope you can acknowledge that you're a racist."
Ogbu then took to Twitter to demand Sewell relinquish her position: "Caitlin Sewell is the white lady who said 'dumb n—-r' at 'When Hate Comes to Campus' panel. She is the assistant general counsel for the UNT system and I call for her resignation immediately. If UNT wants to say they're anti-racist, show us."
And, as is typical these days in such matters, Sewell actions somehow weren't hers alone — her remarks are indicative of the atmosphere on campus, according to SGA Senator Daniel Ojo. "I think this kind of exemplifies how UNT really is," he said. "I think Caitlin Sewell is a perfect example of what UNT [administration] is actually like."
Soon after the event, UNT President Neal Smatresk also released a statement on Twitter in a response to Sewell's use of the racial slur.

"During the 'When Hate Comes to Campus' panel discussion this evening, a member of the UNT System legal staff used a racial epithet that was not reflective of the values of our university community," the statement read.. "While the individual was trying to make a point about First Amendment speech, this language is never condoned in our community which prides itself on our diversity and caring nature."
Statement regarding "When Hate Comes to Campus" comments and outcome — A Joint Message from the Chancellor and the President pic.twitter.com/dxQNW3OWCt

— Neal Smatresk (@UNTPrez) November 8, 2019
Kelly Neidert, the chair of UNT's chapter of Young Conservatives of Texas, said she was shocked at Sewell's use of the racial slur and said it came from a place of ignorance.

"Everybody has some form of prejudice, whether they know it or not,"Neidert said. "That's just been embedded into her thinking, I think it was ignorance, not blatant racism."

Neidert said that while Sewell should not be fired, UNT should condemn the use of that word.
On the other hand, senior Katlyn Benedict believes Sewell should have been fired because her comments were "upsetting."
"I understand that this was a free speech event and she was giving examples but her example was upsetting and I do believe she should be fired for that yes," she said.
And here's a surprise: The SGA issued a set of demands! The Fort Worth Star-Telegram reports these include "sustaining diversity curriculum — overseen by a board comprised of students, staff and faculty of color — and training," and plans to "increase retention rates for marginalized students."
According to the Foundation for Individual Rights in Education, UNT's "Free Speech and Public Assembly on Campus Grounds" policy states "The University of North Texas recognizes that freedom of expression and public assembly are fundamental rights of all persons and are essential components of the education process. … Campus grounds generally are open to students, employees and sponsoring organizations for expressive activity …"
Read the NTD and Star-Telegram articles.
MORE: Another prof uses 'N-word' in class, student indignation results
MORE: Emory U, concerned with the N-word, brings in N-word-spewing rapper
IMAGE: Oxalis37 / Flickr.com
Like The College Fix on Facebook / Follow us on Twitter