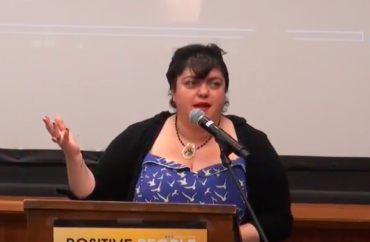 Instructor also expressed delight over George W. Bush's grief
A professor who stirred controversy last week after publicly celebrating the death of former First Lady Barbara Bush will not be fired by the university that employs her, the school announced yesterday.
Randa Jarrar, who following Barbara Bush's death stated on Twitter that she was "happy" over the woman's passing, will keep her job at California State University, Fresno, The Sacramento Bee reports.
In a statement, Joseph Castro, the president of Fresno State, said that Jarrar's celebratory remarks over another person's death were "insensitive, inappropriate and an embarrassment to the university," but that an internal review concluded that Jarrar did not violate any university policies.
Calling Jarrar's comments "disgraceful," Castro nevertheless pointed out that they are "protected speech under the First Amendment of the U.S. Constitution."
The university, he wrote, "does not have any justification to support taking any disciplinary action."
The decision comes after Jarrar, who was already on leave from the university for a semester, publicly taunted her critics, stating that she makes a six-figure income and that she will "never be fired."
In the wake of her remarks, several donors to Fresno State publicly considered rescinding their donations to the university. "This represents such an embarrassment to the university and the community," one donor said. "It's hard to believe this is an isolated thing that just happened. I have to imagine people previously knew of this person's character and what she's about."
MORE: Who wants to be educated by an unhinged crank?
IMAGE: YouTube
Like The College Fix on Facebook / Follow us on Twitter