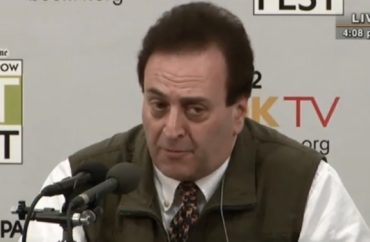 'Did I hear someone say "Star-Chamber procedure"?'
Earlier this summer we told you about a University of Pennsylvania professor who privately objected to the wording of a proposed Black Lives Matter statement and found himself facing calls for termination.
The more immediate threat to Carlin Romano was losing his board position in the National Book Critics Circle, which had circulated the proposed statement among its board.
Romano disputed the statement's claim that the publishing industry had not supported black authors. Its language was harsh and self-accusatory, saying American book publishing has the "full benefits of white supremacy and institutional racism." Romano claimed he probably wrote more about "Philadelphia's black literature and traditions" than "anyone living, black or white."
In response, the NBCC called a special membership meeting to vote on kicking him off the board. He survived the vote – barely.
Removal requires a two-thirds majority among those voting, and 62 percent supported his removal in last week's vote. Less than a third of members voted, and Romano was saved by proxy votes, which skewed more in his favor (still only 39 percent) than did direct votes (only 19 percent), the NBCC said in an email to members.
Publishers Weekly reported that "multiple sources" said the deadline for proxy voting was extended by two and a half hours "at the last minute." (Incoming President David Varno alleged that Romano made litigation threats against members that made them wary of removing him, since the evidence they would have to produce would end up in court. Romano denies this.)
Romano was given the opportunity to respond to everyone who spoke, and the meeting featured many members who "spoke passionately on both sides, raising a wide variety of issues," the NBCC email said. As a result, he'll serve out the rest of his term, which ends in 2022.
He's not done speaking, giving The College Fix the 12-page statement he provided NBCC members before the vote. He said he only objected to the proposed statement's wording because then-NBCC President Laurie Hertzel "personally asked me" to comment on the draft.
He would have supported the final statement regardless of whether his own thoughts were incorporated, but Romano wanted to challenge "multiple false generalizations" based on his four decades in publishing:
How could I accept some of the letter's claims? I once spent a day with James Baldwin in which he endlessly praised his old friend, first editor, and high-school buddy, Sol Stein, and subsequent editor Jim Silberman, for all they'd done for him. I watched as Toni Morrison took her "white gatekeeper" John Leonard to the Nobel Prize ceremony, and appreciated her white gatekeeper editor Robert Gottlieb at Knopf.
Romano disputed that several board members resigned "because of my comments," instead blaming them on a young and woke board member, Hope Wabuke, who breached the board's confidentiality custom by publicly tweeting Romano's objection. Yet he did not mind Wabuke's action, which he said did not violate any bylaw:
Anyone who knows me over my career, which has included multiple free-speech controversies, knows that I'm 100-percent on the side of transparency, free-speech and democratic principles except in the most narrow, stipulated situations where some crucial imperative outweighs those all-important values. I say what I think and don't worry constantly about others knowing what I think—apparently a dying attitude in modern intellectual life.
He accused some board officers of "repeatedly and in some cases outrageously" violating NBCC rules "in order to advance their activist, non-book-related political agendas," subverting "this organization's main reasons for existence and its democratic ethos."
Much of the statement elaborates on this, including the unauthorized use of NBCC money – "the largest expenditure" in its history – to hire a law firm to rewrite its bylaws so that Romano could be removed "without cause" and give members license to self-deal. (Ultimately, "solely for cause" was left in the bylaws.)
He mocked NBCC leadership for the vast sum it spent on lawyers, calling them "utterly unsophisticated about attorney-client relations," and denounced the decision from on high to ban media coverage of the vote: "Did I hear someone say 'Star-Chamber procedure'?"
The removal vote will be "the first time in the 46-year history of the NBCC that such a trial has taken place," he wrote: "It's the first nationally webcast 'Cancel Culture' elimination that one can actually watch, popcorn optional."
Romano's opponents are still planning to pop the popcorn. Varno, the new president, emailed members that Romano was "on notice pending adoption of a new code of conduct" that he may be removed for his alleged litigation threats.
MORE: Penn professor under fire for saying publishing industry isn't racist
IMAGE: C-SPAN screenshot
Like The College Fix on Facebook / Follow us on Twitter