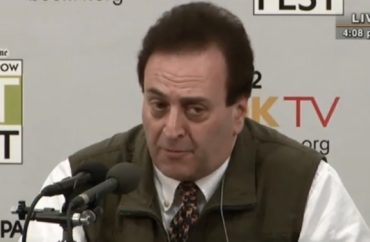 'I am pro-Black Lives Matter. I am not racist, not by a long shot'
A University of Pennsylvania professor may be kicked out of leadership in a prestigious literary group for privately disputing the wording of a proposed Black Lives Matter statement.
The National Book Critics Circle said it's "facilitating a special membership meeting" to vote on the removal of Carlin Romano from its board, citing a request from "more than 30 regular members."
Romano's critics are trying to get him fired by Penn as well. More than 240 people have signed a petition demanding that Penn's Annenberg School for Communication, where Romano (above) teaches media theory and philosophy, "prohibit Carlin Romano from teaching at Penn this fall or ever again."
The professor's job at Penn does not appear to be in immediate danger. Neither Penn media relations nor Annenberg Director of Communications Julie Sloane responded to College Fix queries about Romano's job.
While NPR described Romano's comments as "racist," his primary objection to the proposed statement was that it ignored the American publishing industry's efforts to promote black authors in the past few decades.
Romano, a former NBCC president and its current vice president of grants, also said he bore no "culpability" for the supposed "erasure of BIPOC [black, indigenous and people of color] voices" in publishing, as the statement described the industry.
"I myself have probably written more articles and reviews about Philadelphia's black literature and traditions in my 25 years at the [Philadelphia] Inquirer than anyone living, black or white," he wrote in the email to fellow board members that is now being used against him.
He also objected to the media's portrayal of his comments in the private email, telling The Daily Pennsylvanian: "I am pro-Black Lives Matter. I am in favor of greater diversity in the book publishing business. I am not racist, not by a long shot."
Low pay more likely than 'white racism' for fewer blacks in publishing
The dispute centers on an effort by NBCC to express its support for the Black Lives Matter movement in the wake of George Floyd's death at the hands of Minneapolis police.
Laurie Hertzel, who has since resigned as president, sent a proposed statement to board members for their review and feedback in early June.
Romano objected to some of the language in the proposal, according to a June 10 email leaked by another board member. One section said American book publishing has the "full benefits of white supremacy and institutional racism," and "stifles black voices" through "white gatekeeping."
"Equating American book publishing with American police departments […] is ridiculous," Romano wrote to Hertzel and the board.
"Many of the writers cited in the letter's own list would never have been published if not for ecumenical, good-willed white editors and publishers who fought for the publication of black writers," he continued: "Both of these statements are calumnies on multiple generations of white editors and publishers."
He mocked the idea that alleged black underrepresentation in publishing was the result of "white racism," calling it a "simplistic" explanation that ignored the economic "realities" of the industry:
We professors especially know that accomplished black undergraduates rarely want to go into book publishing because it pays so badly.
Romano identified himself as "not the only one of the Board who disagrees with some of the claims in the letter," but said that at least one other person "feels that he or she will be slammed by many Board members for speaking up." He's raising his voice because others have told him "that we should not, as critics, be afraid to speak up."
He also got in a dig at the sloppiness in the proposed wording, which misspelled the name of Ahmaud Arbery, the black man shot and killed by armed white residents in Georgia. Romano did not respond to an interview request by The Fix.
MORE: 'Low-hanging fruit' is a microaggression, reminds blacks of lynching
This is the email I wake up to from one of the longest sitting board members of the national literary organization I am in. This is why #publishingsowhite #PublishingPaidMe #bookcriticismsowhite #BookReviewingsowhite pic.twitter.com/H8HyYSOp5C

— Hope Wabuke (@HopeWabuke) June 11, 2020
Prominent black public intellectual agrees with Romano
The petition to Penn to fire Romano appears to have stalled, having crossed 200 signatures a month ago but only added about 40 since. Created by Philadelphia writer Emma Eisenberg, it expresses "outrage and disappointment" over the "racist remarks he made" in the internal email.
It accuses him of an unspecified "sustained campaign of targeting black people and women on the board of the National Book Critics Circle." Romano is a danger to Penn students, "particularly black students and other students of color," because of his "views on race and responsibility."
According to the Daily Pennsylvanian, Romano is scheduled to teach COMM 378 Journalism & Public Service this fall. An update from Eisenberg said he was also teaching a political science class, and that the petition had been shared with that department's leaders.
The NBCC said on June 18 that 15 of 24 board members had resigned in recent weeks, apparently related to its attempt "to make a simple, yet powerful statement that Black Lives Matter."
A followup statement June 29 declined to share the rationales for those resignations, other than to say they were made for "a wide range of reasons." The group said "multiple groups of members [were] gathering support to remove a current board member" – Romano – and that it had received more emails calling for the board member's removal than supporting him.
One of those who resigned is Columbia University linguist John McWhorter (below), a critic of the 1619 Project and defender of the unedited use of the n-word in educational contexts. Without explaining why he resigned, he told the Daily Pennsylvanian that he agreed with Romano that claims of racial bias in American publishing were "nonsense."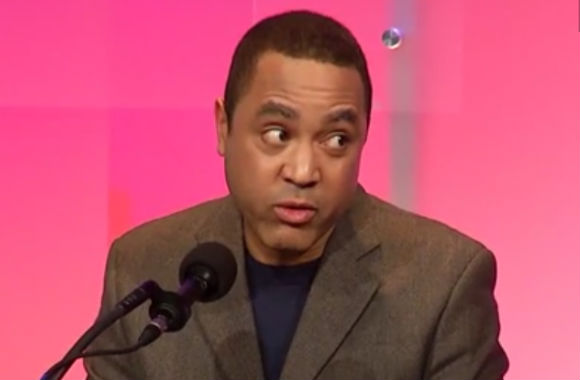 The Penn professor was not "ideally gracious" in some ways, but his email simply meant that "white writers have helped Black ones a lot over the past fifty years, understanding that they needed to," said McWhorter, who is black. He declined to comment to The Fix.
Since the conflicts became public in early June, the NBCC has released multiple statements showing its support for Black Lives Matter and the steps it will take to demonstrate "a clear commitment to racial and social justice."
The June 18 statement said it will "look closely at our own structures and traditions in order to examine and remove the effects of white gatekeeping within our organization." It pledged to repopulate the board with diverse candidates and encourage BIPOC and LGBTQ+ critics and writers to run for board positions.
The NBCC announced its new board members July 15 to replace the 15 who departed. Five of them were on the previous board, and they agreed to rejoin "given the changes that are planned."
They include "declaring the NBCC anti-racist/anti-bias organization" and "giving additional voting powers to members." Though its June 18 statement said the board would meet July 21 "to determine our next steps as an organization," the organization had not announced the outcome of that meeting as of Wednesday night.
MORE: Penn to stop displaying skull collection to fight racism
IMAGES: C-SPAN screenshot, Intelligence Squared US screenshot
Like The College Fix on Facebook / Follow us on Twitter