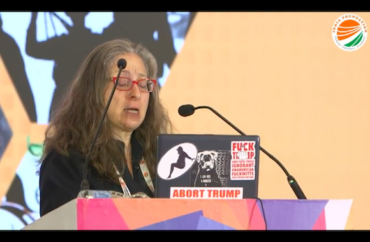 C. Christine Fair, a Georgetown University professor, had her Twitter account briefly suspended twice after tweeting that the Republican senators on the Senate Judiciary Committee should die.
"All of them deserve miserable deaths while feminists laugh as they take their last gasps," Fair's tweet stated. "Bonus: we castrate their corpses and feed them to swine? Yes."
Now, the scholar is back on Twitter, and claims the suspension was an accident on the part of Twitter.
In an interview with The Washington Post, Fair also called her tweet "an experiment."
And in an email to the New York Post she said: "In retrospect, I should have blogged about this rather than tweeting it. My intention was to throw back the kind of hate I get in one of the forms I get to make people as uncomfortable as I feel. My discomfort is not caused by words. My discomfort and that of millions of women is caused by the actions that are killing women, injuring us while our perpetrators' behavior is explained away and normalized."
She also called notions that she is actually advocating violence "preposterous."
After the castration tweet went viral, Fair's account was suspended Tuesday morning. By Tuesday afternoon, it was back up, and a Twitter spokesman told The Washington Post that the suspension was a mistake. It was suspended a second time, and the Twitter spokesman did not comment on this to The Post, but the account is now back up, and Fair is actively tweeting.
Rightwingnut quislings are using information warfare to recreate America in the white, male supremacist image it desires, doing violence to the majority of this country's citizens. If you're white and you oppose this, you need to STEP UP NOW. Be an ally. https://t.co/oNnSRCFPMx

— (((Christine Fair))) (@CChristineFair) October 3, 2018
Georgetown released a statement from President John DeGioia in support of academic freedom. The statement read in part: "We protect the right of our community members to exercise their freedom of expression. This does not mean the University endorses the content of their expression. We can and do strongly condemn the use of violent imagery, profanity, and insensitive labeling of individuals based on gender, ethnicity or political affiliation in any form of discourse."
"If comments made by faculty members are determined to substantially affect their teaching, research, or University service, we will address them through established University procedures outlined in our Georgetown University Faculty Handbook."
MORE: Georgetown prof allegedly cyber-bullied Trump-supporting colleague
IMAGE: India Foundation / YouTube
Like The College Fix on Facebook / Follow us on Twitter