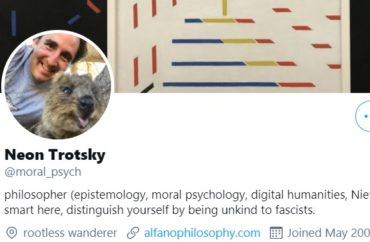 University won't say if he violated code of conduct
Months after receiving nearly a million dollars to study "intellectual humility" toward political opponents, a professor expressed glee at the deaths of his political opponents.
Mark Alfano will face no repercussions from Macquarie University because no one has formally complained about his online comments, a spokesperson for the Australian public institution told The College Fix.
The associate professor in the Department of Philosophy shared a Jan. 15 New York Times tweet on the death of a Donald Trump supporter during the Jan. 6 riots outside the U.S. Capitol.
His tweet, which remains live as of early Tuesday, reads: "More of this please." Alfano proceeded to argue with fellow Twitter users who criticized his tweet, even calling one a "dumbfuck."
The professor (above) works in moral psychology, which encompasses both philosophy and social science, according to his curriculum vitae. (His Twitter handle includes the phrase "moral psych.")
He taught at the University of Oregon from 2013 to 2015 and did postdoctoral research at Princeton for a year before that. Alfano joined Macquarie last year after five years at Delft University of Technology in the Netherlands. He did not respond to Fix queries.
"These comments do not state the views of Macquarie University," the spokesperson said regarding Alfano's tweets. "The University does not limit staff making public comment in a personal capacity."
Asked a second time to answer whether Alfano's tweets violate its staff code of conduct, the spokesperson said Macquarie had no "reason to determine whether or not there is any breach of the code of conduct" because it hadn't received "any official complaint."
A doctoral candidate personally targeted by Alfano last year showed The Fix his "More of this please" tweet, contrasting its sentiment with the professor's "intellectual humility" grant.
"There would be serious consequences if a conservative professor wrote this about Biden voters," Nathan Cofnas at the University of Oxford wrote in an email. "But since the target is conservatives, Alfano will continue to be held up by his peers as an expert in morality and 'intellectual humility.'"
MORE: Prof suspended for allegedly wishing death on Trump supporters
More of this please. https://t.co/mfTJUjcoyR

— Neon Trotsky (@moral_psych) January 16, 2021
Dehumanizes Trump supporters with slur from horror movie
Alfano was commenting on the death of 34-year-old Rosanne Boyland. Unlike Ashli Babbitt, the 35-year-old veteran shot and killed by Capitol Police, Boyland's death was reportedly caused by fellow Trump supporters at the Jan. 6 riots.
The New York Times said it reviewed videos that suggest Boyland was crushed by a throng of Trump supporters who "attempted to use the weight of their combined bodies" to push back police officers in a Capitol tunnel.
Her friend Justin Winchell claimed he tried to pull her out of the crush, which he said was "not incited by Trump supporters."
Twitter users alluded to Alfano's academic specialty when criticizing his wish for more Trump supporters to die.
One called Alfano a "clown" for replying to the "tragic death" in such a manner "while patting himself on the back for being 'smart' and 'moral' in his bio."
"Tragedy is when I cut my finger. Comedy is when a MAGA chud gets crushed by fellow rioters and dies," replied Alfano. "CHUD" is an acronym from a 1984 horror movie that means "Cannibalistic Humanoid Underground Dweller."
Tragedy is when I cut my finger. Comedy is when a MAGA chud gets crushed by fellow rioters and dies.

— Neon Trotsky (@moral_psych) January 18, 2021
Another user implied Alfano was a hypocrite and bootlicker, sharing an image captioned:
You've spent the last year raging against police brutality and now fully support police shooting conservatives that stormed the Capital [sic] filled with politicians you've been protesting against all year
"Hey dumbfuck, she was killed by fellow rioters," Alfano replied. "Can you not even read the headline?"
MORE: Professor blames Trump for bomb threat at Princeton
Hey dumbfuck, she was killed by fellow rioters. Can you not even read the headline?

— Neon Trotsky (@moral_psych) January 18, 2021
'First examination of the best ways to practice intellectual humility'
Alfano is not shy about trying to stir up trouble for ideological opponents.
Just over a year ago, he started a petition campaign against Philosophical Psychology to retract a paper that defended research on race and intelligence. It currently has 124 signatures.
Alfano called PhD student Cofnas, the author of the paper, a "troll" who believes climate scientists "are part of a conspiracy to frighten the public into providing them with funding."
He again used the CHUD acronym to describe people criticizing his petition on Twitter. The white academic also called them "racists."
Keep coming at me, chuds. I've got a trigger finger for blocking racists.

— Neon Trotsky (@moral_psych) January 20, 2020
Just last month Alfano signed a letter condemning the U.K. government for designating University of Sussex philosopher Kathleen Stock an Officer of the Order of the British Empire.
The letter accuses her of "transphobia" for criticizing "trans-inclusive stances and policies" such as letting transgender women into women's locker rooms and shelters.
Cofnas contrasted Alfano's tweet about the death of Boyland with the John Templeton Foundation grant he received in March.
Philosophy blog Daily Nous said the grant was worth about $924,000 and would be hosted at Macquarie. Alfano's psychology collaborators on the 33-month research project are based at New York University.
The project description calls it "the first examination of the best ways to practice intellectual humility in a fragmented and pluralistic social world." It aims to examine intellectual humility between people in different in-groups, since "'tribal epistemology' has so thoroughly infected political and social discourse."
The research leaders plan to produce "at least six academic papers, three chapters, a monograph, an edited volume, and several op-eds," and also host a workshop, conference and "two methodology masterclasses."
The Templeton Foundation did not respond to email and phone queries from The Fix about the compatibility of Alfano's Twitter commentary with the terms of his grant.
MORE: Philosophy journal refuses to give in to Alfano's petition
IMAGE: Neon Trotsky/Twitter
Like The College Fix on Facebook / Follow us on Twitter