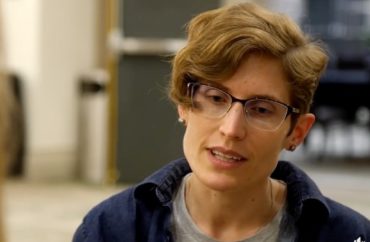 UPDATED
Professor suggested writing might have been misunderstood due to neurodevelopmental condition
A professor at an Indiana university was accused of being an artificial intelligence bot in an email sent this week.
Purdue University Professor Rua Williams, "who uses they/them pronouns, said neurodivergent people and people who learn English as a second language get flagged disproportionately as using AI," the Purdue Exponent reported.
"I'm not an AI," Williams (pictured) told the paper. "I'm just autistic."
The accusation was sent by a person requesting information on a research project, and Williams' response was mistaken for an AI-generated email.
However, "Williams couldn't give more information about the interaction because of the Computer Graphics Technology Department's protocol," according to the paper.
Williams' writing is held under greater scrutiny and "takes longer to be reviewed" than that of people without autism or similar conditions, according to the professor.
"We get into (longer) fights with reviewers about whether or not the way we write is on purpose and serves a rhetorical purpose," Williams said.
According to the paper, the "way people and software try to detect AI generated writing often excludes the way autistic people write and speak."
Williams told the paper that when it comes to detecting ChatGPT usage and other AI, "some of the guidelines, like the AI-detection software and threatening failure to those who use it, is not a good idea because it disproportionately affects neurodivergent and second-language students."
"There's really not something that disabled students can do to protect themselves," Williams said. "We really need to be focusing on faculty pedagogy and that they're not putting students in a position where they could be flagged falsely for cheating."
Williams is an assistant professor in the User Experience Design program at Purdue, according to a faculty information page. Williams "stud[ies] interactions between technology design, computing research practices, and Disability Justice," according to the website.
MORE: Colleges expand support for people with autism, other developmental disorders
Like The College Fix on Facebook / Follow us on Twitter