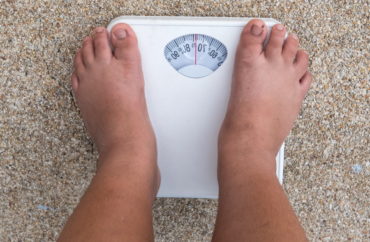 Scholarship aims to tackle issues such as 'fatphobia' and 'sizeism'
A professor at Iowa State University is working to advance a concept called "fat justice" as part of his overall scholarly body of work highlighting those not traditionally centered in
student equity and justice discourses.
TJ Stewart, assistant professor in the School of Education at Iowa State, is known in academic circles for research focused on "stigmatized identities," what he describes as "the margins of the margins," the University Innovation Alliance reports.
He recently co-authored a scholarly journal article headlined "'Feeling good as hell': Black women and the nuances of fat resistance." The headline is a reference to a song by the popular pop singer Lizzo about feeling good about yourself.
The College Fix reached out to Stewart multiple times via email asking for a copy of the full article. No inquiries were answered. Its abstract states the paper is focused on differentiating between activism and resistance.
"Grounded in Black women's ways of knowing, we explore the philosophical bounds of fat activism and fat resistance and through citing examples of Black women engaged in resistance to body-oppressive structures, we highlight the ways fat people and their accomplices (nonfat and non-fat identifying people) contribute to the collective effort for fat justice," the abstract states.
"We illuminate potential pathways forward for recognizing a range of actions that contribute to the freedom of fat bodies."
In an Oct. 14 interview with the University Innovation Alliance, Stewart argued that fat phobia and sizeism on campus "excludes larger people from the promise of higher education."
For one, the professor said social and cultural ideas about fat people may perhaps prompt "violent experiences based on how people treat them socially or academically."
MORE: Med school to host 'body terrorism on fat LGBTQ+ people' seminar
MORE: Prof: urging people to eat healthy during quarantine is 'fatphobic'
Then there are also the physical challenges.
"There are a lot of fat-bodied students who experience places where they are not able to be comfortable, where they don't fit in the classroom, in the residence hall," Stewart said. "We know athletes might get preference in certain assigned spaces. How radical would it be if we thought about that for larger students?"
"What can we do with the resources that we have for students who might require them? But we have to first recognize that it's an issue, so it requires some investment of resources, in having conversations with these students."
Stewart's faculty bio notes "I am currently collecting data for a study exploring the experience of fat students on campus using the construct of 'body terrorism' grounded in Black women's ways of knowing."
The bio goes on to note that Stewart primarily teaches "equity and justice-related courses in the School of Education." Another one of the professor's main study focuses is the existence of sex workers on campus.
The scholarly concept of fat studies, overall, is not new. Academics have linked fatness to personal liberation and freedom for nearly a decade.
Stewart's article was published by Fat Studies: An Interdisciplinary Journal of Body Weight and Society, which has been in circulation since at least 2012.
Additional headlines in the current issue include: "Cultivating new fat liberation movements: growing a movement ecology with Fat Rose," "Interactive nature of fat activism and fat studies within and outside academia," and "'If I'm shinin', everybody gonna shine': centering Black fat women and femmes within body and fat positivity."
Fat justice seeks to address and undo all of the negative implications that come with being overweight in society. A case for fat justice is laid out in a 2018 blog post by an anonymous user on Medium under the name "Your Fat Friend."
The way fat justice as a philosophy operates, based upon the synopsis, is that the overall end goal of the academic concept is to undo the differences in the way people who are thin are treated as compared to people who are overweight.
These differences — and in turn challenges — are especially amplified for obese individuals of color, the anonymous author argues, to lay the groundwork for fat justice because of particular, perceived marginalizations of those falling under the overweight demographic.
In essence, "fat justice" as an initiative is to create an equilibrium between obese and thin people in sociological terms.
The idea of the attaining of "fat justice" relies on statistics that overweight people are paid less, and that there is a general reluctance among employers to hire obese job candidates.
The journal Fat Studies works to address the unique problems overweight people face because of physical appearance. Another goal is to "challenge and remove the negative associations that society has about … the fat body," according to a description of the scope of the publication.
The College Fix emailed the editor of the journal, Esther Rothblum, professor emerita of women's studies at San Diego State University, seeking a phone interview on what prompted the genesis of the journal.
Rothblum opted out of answering any questions, citing time constraints and directing The Fix to the Fat Studies website. Professor Rothblum also edits the Journal of Lesbian Studies as well, according to her university profile.
ALERT: Check out our Campus Cancel Culture Database
IMAGE: Hug Me / Shutterstock
Like The College Fix on Facebook / Follow us on Twitter