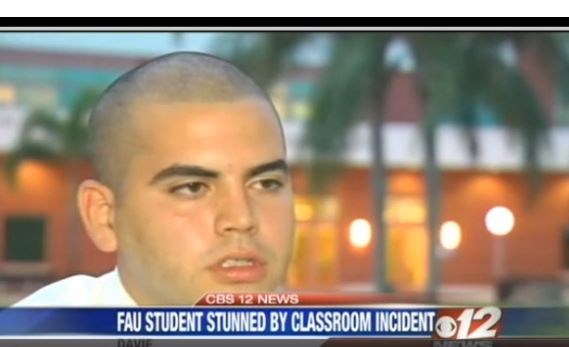 A Florida professor and high-ranking member of the Palm Beach County Democratic Party recently instructed his students to take out a piece of paper, write "JESUS" on it, then put it on the floor and stomp on it – and the Mormon student who refused to do so, calling the assignment morally offensive – was suspended.
"Anytime you stomp on something it shows that you believe that something has no value. So if you were to stomp on the word Jesus, it says that the word has no value," the Florida Atlantic University student in question, Ryan Roleta, told a CBS news affiliate. "I am not going to be sitting in a class, having my religious rights desecrated."
So Roleta – a junior at the school who is also a devout Mormon – told his professor, Dr. Deandre Poole, that he refused to do the assignment, calling it inappropriate, offensive and unprofessional – and his religious objections got him suspended from the class, CBS News' WPEC reported.
After he complained to Poole's supervisor, Roleta said he was suspended from the intercultural communications class and advised not to return.
"I'm being punished, and I am still waiting for an apology from somebody," Roleta told WPEC.
In an emailed statement the university sent to CBS, campus officials stated "faculty and students at academic institutions pursue knowledge and engage in open discourse. While at times the topics discussed may be sensitive, a university environment is a venue for such dialogue and debate."
Apparently the exercise is a suggestion in the textbook, "Intercultural Communication: A Contextual Approach, 5th Edition," and the school would not say if Poole would face disciplinary action, WPEC reports.
After news of the incident spread Thursday, it came to light that Poole is not only a professor but also a high-ranking official in the region's Democrat Party. In particular, reports BizPacReview, Poole is vice-chairman of the Palm Beach County Democratic Party.
Poole's bio blurb on the Palm Beach County Democratic Party website states that he is a member of Lighthouse Worship Center Church of God in Christ who "prides himself in being actively engaged in civic affairs." It also notes Poole is a "new junior faculty member in the School of Communication and Multimedia Studies at FAU."
According to his profile page on Florida Atlantic University's website, Poole earned his PhD from Howard University and is writing a book called "Obamamania: The Rise of a Mythical Hero."
CLICK HERE to Like The College Fix on Facebook.