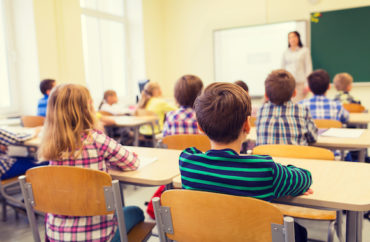 'Teaching students about the non-scientific issues related to global climate change must not displace the opportunities required for a student to obtain a deep, objective scientific understanding,' critic of proposal said
A pair of scholars who train the next generation of K-12 teachers recommend that science educators adopt a justice-centered approach to lesson plans that emphasize "explaining and solving pressing societal challenges that directly impact students' lives, communities, and society."
New York University Professor Okhee Lee and University of Miami's Professor Scott Grapin wrote that "science and engineering education remain silent about disparities that underlie pressing societal challenges."
The scholars argue that middle and high school science teachers "fail to provide opportunities for students to critically evaluate how science and engineering have played a role in historical and current injustices."
To remedy this, the scholars recommend STEM educators adopt a justice-centered approach inside the classroom that emphasizes "explaining and solving pressing societal challenges that directly impact students' lives, communities, and society."
This would subsequently prompt student advocacy and activism, they wrote.
Lee and Grapin did not respond to a request from The College Fix seeking comment.
I invite you to read my latest blog with @TdiShelton and @GrapinScott, where we propose justice-centered STEM education as one example of a future approach that addresses pressing societal challenges while centering justice. https://t.co/6QRH1QUy9F#STEM #education #science pic.twitter.com/K8DLRwWpZL

— Okhee Lee (@OkheeLee_) December 28, 2022
The scholars, in their article, provided links to classroom materials K-12 teachers can use to better instruct students about the purported need to take action on matters like health equity, climate change, sustainability, and COVID mitigation.
"In K-12 classrooms, unprecedented societal challenges disproportionately impacting minoritized groups present an unprecedented opportunity to center justice in STEM education and society broadly," Lee and Grapin, along with the National Science Teaching Association's Tricia Shelton, wrote in a more recent Dec. 21 article for the NSTA.
Grapin is an assistant professor in the Department of Teaching and Learning and Lee is a professor in the Steinhardt School of Culture, Education, and Human Development.
The December article underscored their work on the topic published in the spring of 2022 in the Journal of Research in Science Teaching.
The two professors argue that science educators have traditionally presented students with elements of scientific knowledge through textbooks and lectures that would then be confirmed in classroom lab experiments.
Scientific phenomena were used to interest students in science. Students that remained uninterested or saw science as irrelevant to their lives would not learn the material as well as those that were more interested or intrinsically motivated.
Hence, uninterested students that learned less would not go on to pursue scientific careers, they wrote. Those that would pursue such careers were generally white males from better socioeconomic backgrounds.
Conversely, they noted, contemporary approaches do more to make science more accessible by calling on students to make sense of phenomena and design solutions to problems. Science and engineering concepts and practices are blended. Learning progresses over different grade levels.
Although preferable to traditional approaches, according to Lee and Grapin's commentary, STEM instructors that adopt this approach "often address phenomena or problems that are disconnected from pressing societal challenges and/or do not devote sufficient attention to the disproportionate impact of pressing societal challenges on minoritized groups."
Thus "science and engineering education remain silent about disparities that underlie pressing societal challenges," the scholars wrote, while science educators "fail to provide opportunities for students to critically evaluate how science and engineering have played a role in historical and current injustices."
Not all STEM educators agree with Lee, Grapin and Shelton on their assumption that it is a science instructor's place to exhort students to advocate for particular social or political causes or policies.
John Vellardito, a high school biology teacher, told The College Fix in an email that when instructors politicize science or shift focus to other matters tangential to scientific questions, it takes time away from teaching science.
Moreover, he added, "you risk the objectivity and validity that is what distinguishes science and math from other disciplines of study, pseudoscience, and faith."
"Because there is a limit to the school day and year, we need to MAXIMIZE the amount of time in school for student learning of the science (and there's a lot of it)."
Vellardito has been highly critical of certain elements of contemporary American science education, in particular the United States' influential Next Generation Science Standards.
"There are many different methods to facilitate a student's understanding of how particular gasses in the atmosphere may influence global climate change, but teaching students about the non-scientific issues related to global climate change must not displace the opportunities required for a student to obtain a deep, objective scientific understanding," he told The Fix.
"The only place activism has in the science classroom is the activism within the practice of science itself," he said via email.
"Leading students to accept others' interpretations of science is anathema to objective scientific reasoning," he said.
"Advocacy that is not informed by objective scientific knowledge and understanding," Vellardito added, "is a recipe for poor public policy."
MORE: Psychology journal editor's ouster over racism allegations continues bad precedent
IMAGE: Syda Productions / Shutterstock
Like The College Fix on Facebook / Follow us on Twitter