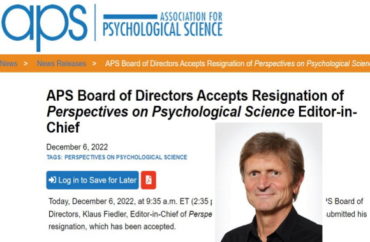 ANALYSIS: Ouster is latest example of academic journals narrowing the scope of acceptable views and cancel culture getting its way
Scientific organizations "have got to stop responding to Twitter mobs."
So said Christopher Ferguson, Stetson University professor of psychology and critic of the encroachment of woke activism into science.
"They've got to turn off Twitter," he said in a recent telephone interview with The College Fix.
Ferguson's comments came in response to a shakeup at the prestigious Association for Psychological Science journal Perspectives on Psychological Science following the forced resignation of now former editor-in-chief Klaus Fiedler.
Fiedler's resignation in December came following an ill-fated attempted debate on the role of diversity activism in psychological science that was to be published in Perspectives on Psychological Science.
His ouster is also the latest example of academic journals narrowing the scope of acceptable views allowed to be expressed by authors and editors.
In 2018, Angelos Sofocleous was let go from editorial positions at both Durham University's philosophy journal Critique and online magazine The Bubble over a tweet stating "women don't have penises."
In 2021, a pair of professors were forced to resign from positions at The Journal of the American Medical Association over comments one of them made on a podcast critiquing the use of the term "structural racism" to describe what he argued was perhaps more a socioeconomic problem.
An editorial last fall in Nature Human Behaviour detailed new editorial guidelines encouraging editors to consider potential unintended or indirect harms that might be caused to human populations by the publication of certain content.
Debate on systemic racism disintegrates
As for Fiedler, the discourse that stirred so much controversy was one that was to be centered around an article titled "Dealing with Diversity in Psychology: Science or Ideology" by Bernhard Hommel, who holds faculty positions at TU Dresden in Germany and Shandong Normal University in China.
In his article, Hommel critiqued a 2020 Perspectives paper co-authored by Stanford University psychology Professor Steven Roberts that argued top-tier psychology journals have not published enough articles on race because there are too many white editors-in-chief, researchers and participants involved in psychological research. It argued "systemic inequality exists within psychological research" and "systemic changes are needed."
Hommel not only disagreed, he cited Roberts' paper as an example of the encroachment of "political activist arguments and reasoning in scientific communication about diversity."
As editor of Perspectives, Fiedler tried to recruit peer reviewers for Hommel's paper. Roberts was among them, as revealed by a lengthy series of email communications Roberts uploaded to a pre-print server alongside other documents. Roberts, however, turned down this invitation in April 2022.
Psychologists Lee Jussim from Rutgers University, Keith Stanovich from the University of Toronto, and Wolfgang Stroebe from the University of Groningen in the Netherlands, conversely accepted their respective requests from Fiedler.
Impressed by the comments of his three reviewers on Hommel's critique of Roberts' work, Fiedler invited his reviewers to adapt their comments into commentaries to be published alongside the Hommel critique.
In the interest of fairness, Fiedler also invited Roberts to submit a commentary of his own – an invitation Roberts this time accepted.
What followed next, as also shown by the email correspondence published by Roberts, was a chaotic imbroglio full of confusion and frustration stemming from a series of administrative and editorial decisions by Fiedler.
Fiedler's five writers appear to have been fraught with considerable uncertainty over deadlines, submission processes, and, most importantly, whether it was Roberts' 2020 article or Hommel's 2022 critique that was at the center of the debate.
In November 2022, Roberts, clearly frustrated with Fiedler and the process, withdrew his commentary from consideration, before later posting it online on December 2, accompanied by the aforementioned email correspondence and a discussion of his experience.
Roberts claimed the critiques of his work by Hommel, Jussim, Stanovich and Stroebe were "collectively unsound, unscientific, ad hominem, and racist," although the only examples of the more damning accusations he could cite were claims he was an activist and a reference by Jussim to a line from "Fiddler on the Roof" involving horses and mules, as "mule" was apparently once a derogatory term for black people.
Here's the letter that @PsychScience sent to fire Prof. Klaus Fiedler, highlighting 'actions incongruent with the APS Diversity and Inclusion Excellence guidance'. pic.twitter.com/x7JWxW3RXW

— Geoffrey Miller (@primalpoly) December 6, 2022
The same day Roberts published his various documents, an open letter demanding Fiedler's resignation and a number of other concessions also began to circulate online, later garnering more than 1,200 signatures.
Among the concessions were Roberts be given the option to have his commentary published in Perspectives with the other articles only available as online supplementary materials and that the APS "grant [Roberts] any additional reparative action he might deem necessary".
On Dec. 6, the APS accepted Fiedler's resignation, as requested by the APS' board of directors following a vague investigative process referenced in a statement from Dec. 5.
The College Fix attempted to reach both Fiedler and Roberts for comment, but did not receive a reply.
Questionable editorial practices — or protecting a particular narrative?
One of the most ironic aspects of the whole affair, as noted by Ferguson is that Perspectives "is kind of designed to be a debate journal."
"As the name would suggest, it is a place where ideas can be expressed and then they oftentimes do have these comment and reply sort of exchanges where sometimes people critique a paper and then the author is allowed to respond," Ferguson told The Fix.
Although unfortunate, he added, sometimes the debates can be unfair.
"This happens to all of us," Ferguson said. "We get an editor who in one way picks reviewers who clearly have a conflict of interest, who set up a debate like this where clearly it's stacked against you."
However, these experiences are seldom as embarrassing or harmful to the field of psychology as the one involving Fiedler and Roberts, Ferguson said.
"I think people treat [Roberts' experience] as a unique experience that Roberts had at the hands of Fiedler rather than a bad but common practice," he said.
However, Ferguson suggested, this wasn't about questionable editorial practices, but protecting a particular narrative.
That's why, Ferguson said, the signers of the petition for Fiedler's resignation wanted the papers critical of the narrative memory holed.
Yet, the outcome, Ferguson told The College Fix, "is worse than the original problem now."
"This destroyed the APS' reputation," he said. "You can't just, like, turn over a weekend and fire somebody because the internet doesn't like them. Right?"
"Maybe Fiedler resigning was the right thing? I don't know," said Ferguson. "But the APS needed to go through an impartial investigation. Take their time. Make sure they got Fiedler's perspective on things. You know, consult a wide range of experts – ethical experts, process experts – for how this should have gone."
However, Ferguson said, they went a different route, capitulating to "all these psychologists behaving like a mob, behaving badly, repeating claims of racism when nobody could even point to anything other than the mule-horse stuff."
Now the Association for Psychological Science looks like they're "beholden to Twitter," said Ferguson, which he added is "the worst possible look for a science organization to have."
MORE: Check out The College Fix's Campus Cancel Culture Database
Like The College Fix on Facebook / Follow us on Twitter