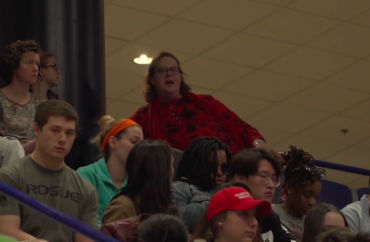 Instructor refuses comment; school pledges to support 'free inquiry'
A University of New Hampshire professor who recently gloated about disrupting an event on campus featuring gay conservative personality Dave Rubin may have violated university policy by interfering in the event.
Joelle Ruby Ryan, a senior lecturer in the Women's Studies department at the university, was one of the disrupters for Rubin's lecture, hosted on May 1 this year. Ryan, posting on Twitter shortly after the event, said: "We did something right! Glad we were able to disrupt this man's hate speech as much as possible. He is nothing but a provocateur and 'civil discourse' with him is impossible."
A video clip of the protests, posted by Rubin on Facebook, shows protesters repeatedly interrupting Rubin's talk, attempting to drown him out by way of noisemakers and chants. A woman who appears to be Joelle Ryan can be seen yelling at him at several points in the clip.
The protest may have violated university policy. The school's code of conduct stipulates what is and isn't allowed regarding disruptive conduct.
Part D of the code, section 3.5, states that "harassing…forms of communication," as well as "any form of conduct that creates a hostile learning and/or working environment," are forbidden.
Further, subsection 3.5.2.1 forbids university members from engaging in conduct that creates "a hostile, intimidating, or offensive working and/or academic environment." Section 3.5.2.4 similarly forbids "conduct [that] unreasonably interferes with an individual's ability to participate in or benefit from an educational program or activity."
Instructors at the university, the code stipulates, "should exercise appropriate restraint, should show respect for the opinions of others, and should make every effort to indicate that they are not speaking for the institution."
Reached for comment via email, Ryan refused to speak on the matter.
"I have no comment regarding this issue at this time," she said.
Via email, Erika Mantz, a spokeswoman for the university, told The College Fix: "The University is proud of these students for exercising their rights to speak freely. Unfortunately, there were disruptions before and during the event. The University will continue to work with students, staff and faculty to uphold both the letter of the law and the spirit of free inquiry."
"The University cannot comment on its response to the behavior of any particular student or employee at the event, but notes that as a community we strive to cherish the right of all persons to speak to a robust variety of viewpoints and for members of this community to choose to hear those viewpoints," Mantz added.
Mantz did not respond to a question from The Fix regarding general university policy on the disruption of school events.
Prior to Rubin's actual speech, the event was marked by protesters around the venue. A number of activists "formed a barrier" around the event.
One student claimed that the event was full of "potential white supremacists, or potential people who could say harmful things, or do harmful things," though there were no reported incidents of white supremacist activist at the venue.
MORE: University won't punish students who disrupted conservative professor's speech
MORE: Campus debate canceled after students protest conservative panelist
IMAGE: Dave Rubin / Facebook
Like The College Fix on Facebook / Follow us on Twitter