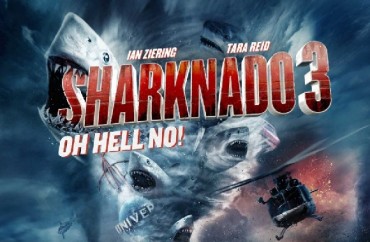 Scholars weigh in on surprising success of Sharknado film franchise
Sharknado 3: Oh Hell No! premiered on the SyFy channel to more than two million viewers Wednesday night, generating well over 360,000 tweets in the process and prompting at least one candidate for president, Jeb Bush, to release a video begging for someone to explain it all to him.
"Please help me," Bush said. "Give me some information about what's going. I'm culturally illiterate, apparently."
While it was a slight decline from Sharknado 2: The Second One, the premiere still had a massive cult following and remains culturally relevant.
The Sharknado films are famously bad, with plots that surround flesh-eating sharks attacking people from tornadoes. The acting ranges from corny to just plain terrible, and the special effects are of horrific legendary status.
Despite all that, the films have become smashing successes, and have even drawn big name celebrities to participate. Billionaire and Dallas Mavericks owner Mark Cuban has a cameo in Sharknado 3 as the president of the United States, as does conservative pundit Ann Coulter as veep.
Professors have opined on how a movie franchise so awful has been able to generate such a fan base, and their theories range from Americans just needing something silly to laugh at to the power of social media.
Dr. Jonathan Gray, professor of media and cultural studies at the University of Wisconsin, weighed in that the franchise is "critic proof."
"I think that's part of what's going on," he told a Wisconsin news outlet. "It makes fun of movie culture. It makes fun of critic culture. There's nothing that a critic can say to hurt it. It makes fun of the hype that surrounds so many movies. It's a hype around something that's totally unworthy."
Another of Gray's theories is the idea that Sharknado is successful because it's a break from the seriousness of everyday life.
"It plays with climate change, but in the silliest way possible. It reminds you of some of the things we could be concerned about, but sort of joyfully romps through them and throws them in the wind," Gray said.
He added Sharknado shows the American public's "capacity for play and irony."
Lance Duerfahrd, an associate English professor at Purdue, has a different take.
Duerfahrd, an expert in studying and teaching about bad films, said "it's Twitter, not the film, that determines the fan base here."
"In general, the film experience is evaporating," he told Purdue News. "When we watched Jaws that experience and those feelings continued inside of us after the final credits roll. When Sharknado ends, it continues but not inside of us but rather on Twitter."
And University of Manitoba English, film and theater professor Brenda Austin-Smith echoed sentiments on how the movie allows viewers to blow off steam.
"Sharknado dares us to take it seriously; it knows that it is a product of a late night marketing joke run amok," she told UM Today. "But it runs with it, and we crack up and love that the film acts as if it takes itself seriously, and does/doesn't admit it."
And, of course, Sharknado 4 is already in the works.
Like The College Fix on Facebook / Follow us on Twitter