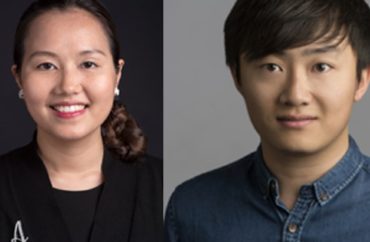 Will help Asian preschoolers learn about combating racism
A pair of education professors received $11,000 to develop a preschool curriculum meant to teach kids how to fight racism.
The American Educational Research Association gave the grant to University of Texas at San Antonio Professor Zhongfeng Tian (right) and Boston College instructor Alisha Nguyen (left).
AERA spokesperson Marla Koenigsknecht told The College Fix on March 21 and 25 she would gather responses but did not provide any answers as of March 30. The Fix asked how teachers should approach the topic of race in an age-appropriate way and if AERA could share examples of other successful programs.
The Fix also asked what schools were participating in this program, the potential benefits and how parental feedback would be incorporated into the program.
"This grant will fund Tian and Nguyen as they collaborate with teachers and families in two dual language immersion preschools in the Greater Boston Area," the news release from UTSA stated. The money will be used "to design and implement an eight-week anti-racist biliteracy program in three classrooms."
MORE: Boston University creates CRT law professorship
The preschool curriculum, designed for both a Vietnamese-English program and a Mandarin-English program, will help battle "systemic racism," according to the researchers.
Tian and Nguyen did not respond to requests for comment sent via email in the past two weeks.
The Fix asked about the role of parents in this program and what schools were participating. The Fix also asked how the researchers would "advance anti-racist research and practices in teaching and teacher education," as stated in the news release.
"We don't want to come to the classroom and frame ourselves as the experts helping them design their curriculum," Tian said in the news release. "We want to work with them, listen to their needs, and design the curriculum with them based on the community needs."
Nguyen said 'childhood innocence' is 'racialized' and 'gendered'
The Boston College instructor has published at least two papers about children and racial education.
"Children Have the Fairest Things to Say": Young Children's Engagement with Anti-Bias Picture Books" and "Childhood Innocence and the Racialized Child in a White Space."
"[I]nnocence has always been a racialized and gendered concept" that prevents teaching children about social justice and issues like race and sex, Nguyen wrote in her "Childhood Innocence" paper.
"For children of color, childhood innocence is neither presumed nor entitled," she wrote. "Many researchers have raised serious concerns about the criminalization of Black boys and adultification of Black girls in U.S. classrooms."
"Childhood innocence, hence, is a burden and a contested privilege that needs to be debunked," she said. This will ensure the reclamation of "child rights of civic engagement, participation in critical conversations of social justice issues, and access to important knowledge."
Tian also has experience in teaching young children how to be "anti-racist."
Tian taught a workshop on "Anti-Racist Language Teaching" for "a third grade Chinese Language Arts class," according to his curriculum vitae.
MORE: UT-Austin funds program teaching white 4-year-olds they are racist
IMAGES: Academia.edu
Like The College Fix on Facebook / Follow us on Twitter