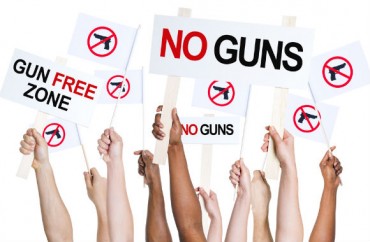 The First Amendment requires the state of Texas to limit the Second Amendment.
It's not quite that simple, but three professors are making the case that the freedom to engage in robust classroom discussion is contingent on keeping guns out of class that are not "well-regulated," in a lawsuit to block the state's campus-carry law from taking effect next month.
It's a change in strategy from what Texas professors seemed to coalesce around in the past year: promising to flout the law and ban students from bringing guns to class. (Students just decided to carry dildos.)
The Texas Tribune reports that Jennifer Lynn Glass, Lisa Moore and Mia Carter claim the law will chill speech in their "courses that touch emotional issues like gay rights and abortion" – a variation of another professor's claim that campus carry will lead to grade inflation.
The litigating professors claim the law violates the Second Amendment as well:
 "It starts with the proposition that a 'well-regulated militia,' (emphasis added), is necessary to the security of a free state. The Supreme Court has explained that 'well-regulated' means 'imposition of proper discipline and training.'"

The suit adds: "If the state is to force them to admit guns into their classrooms, then the officials responsible for the compulsory policy must establish that there is a substantial reason for the policy and that their regulation of the concealed carrying of handguns on college campuses is 'well-regulated.' Current facts indicate that they cannot do so."
Students for Concealed Carry said the litigants' claim that the law is "dangerously experimental" is "laughable" because campus carry is well established around the country, having been implemented on more than 100 campuses.
The lawsuit names both UT-Austin President Greg Fenves, an avowed opponent of the law whose implementation rules would ban guns from dorms, and Attorney General Ken Paxton, who has said explicitly that universities can't ban guns from dorms.
h/t Chronicle of Higher Education
Like The College Fix on Facebook / Follow us on Twitter
IMAGE: Rawpixel/Shutterstock