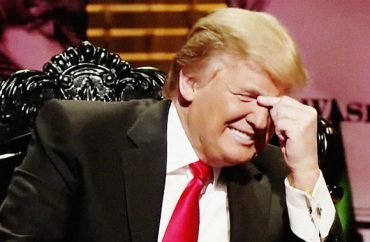 Amid the brouhaha over the current Trump "scandals," a group political scientists and professors gathered at UCLA's Hammer Museum Tuesday evening to contemplate what a Mike Pence presidency would mean for America.
Because, after all, Donald Trump might be impeached, right?
Don't think for a moment, though, that Pence assuming the reins of power assuaged any fears among the participants.
The Daily Bruin reports that Indiana University's Marjorie Hershey said Pence would follow Trump's policies, but "with more control." She added the vice president "would have a similarly hostile relationship with the media and reluctance to disclose information to the public, but would emphasize traditional Christian values more strongly than Trump."
Then one "positive" aspect of a Pence presidency, she said, is that it would be "a lot more organized" and more effective in its relationship with Congress.
Prof. Hershey was one of the more … balanced participants.
Lisa Graves, the executive director of the Center for Media and Democracy, said she thinks a Pence presidency would likely result in more policies against women's reproductive rights and LGBTQ rights. She added she thinks Pence would likely fight against raising the minimum wage and would try to privatize education more.

Graves added she is unsure of how likely it is for Pence to become president, but she thinks the American people need to mobilize and protest current societal injustices.

"Whether (Trump's low approval ratings) mean that Pence will become president is unclear, but what is clear is that our only hope is our democracy," Graves said.

Diane Winston, a professor at the University of Southern California, said she thinks Pence is similar to the Commander, the leader of a dystopian society in the novel "A Handmaid's Tale," by Margaret Atwood, played by Robert Duvall in the 1990 movie adaptation.

"Ever since I became aware of Mike Pence, I've been haunted by Duvall's character, and what that quiet, white, sanctimonious, male, Christian authority would look like here in the real world," Winston said.
Alas, Professor Winston wasn't totally inelegant — she did concede Pence might be an improvement over Mr. Trump.
MORE: Penn 50th class reunion attendees to don 'Denounce Trump' button at festivities
MORE: Prof assures Harvard she only compares Trump to Hitler outside of class
Like The College Fix on Facebook / Follow us on Twitter
IMAGE: YouTube