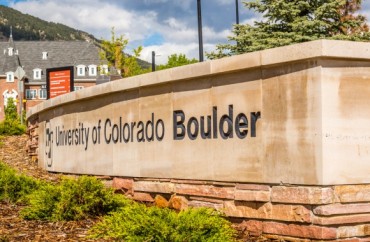 A University of Colorado Boulder program that brings a token conservative scholar to campus each year is expanding, with organizers citing its popularity with both right- and left-leaning students and well-respected scholars as big reasons for its growth.
For the past five years, the public university's Conservative Thought and Policy Program has brought one visiting scholar to campus each year. For the 2018-19 school year, it will grow to include two scholars.
The growth stems from an increase in the amount of strong candidates applying for the position, the program's strong financial footing, and its popularity and success so far, CU Boulder professor Robert Pasnau told The College Fix.
He noted that when the program kicked off, there was some skepticism about whether it would be successful. The initial years of the program have put those concerns to rest, Pasnau said, as it has "established enough of a track record now of having quality scholars" serve as visiting professors.
"I think people are seeing that we're doing exactly what we set out to do and having a big impact on the community," he said.
The program has generated enthusiasm among students. Courses taught by the visiting scholars draw conservatives and liberals alike, according to Pasnau.
"A lot of self-identified liberal students are quite interested in the idea of taking a class with these scholars and kind of challenging their own ideas because they are as aware as anyone that there are not that many opportunities in a university context to hear from strong, conservative voices," Pasnau said.
Pasnau is director of the university's Center for Western Civilization, Thought & Policy, which houses the conservative thought program. The program, which began as an effort to bolster intellectual diversity at CU Boulder, started in 2013 and has brought five visiting scholars to campus in the past five years. The visiting scholars teach classes and hold lectures and seminars as part of their duties at the campus, which is located in a city known for its rampant liberalism, with the nickname "The People's Republic of Boulder."
"What's interesting is that we've really started to see an increasing number of highly qualified, impressive applicants," Pasnau said in a phone interview. "I think that reflects the growing prestige and reputation of the program."
During the upcoming 2018-19 academic year, W.B. Allen and Stephen Presser will serve as the two visiting scholars in the conservative thought and policy programs. Allen is a professor emeritus of political science at Michigan State University and Presser teaches law, business and history at Northwestern University.
The Conservative Thought and Policy Program is entirely privately funded and strong fundraising is another reason Pasnau attributes to the ability to hire an additional visiting scholar.
MORE: Conservative thought program at CU Boulder continues to thrive
IMAGE: Shutterstock
Like The College Fix on Facebook / Follow us on Twitter