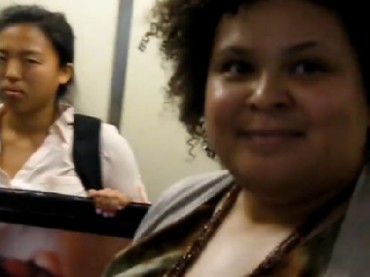 A civil lawsuit was filed Thursday by pro-life students against the University of California and UC Santa Barbara professor Mireille Miller-Young, who in July pleaded no contest to stealing and destroying the pro-life students' property and assaulting one of the girls.
The civil suit seeks compensation for physical battery, property theft and civil rights violations, according to the Life Legal Defense Foundation, which represents the students.
"This is a mature, supposedly educated woman charged by the University of California to convey knowledge, and instead she conveyed discrimination and intolerance. Not only was she out of line in attacking students, but she literally drew blood from a minor," Dana Cody, executive director of the foundation, said in a prepared statement.
In August, Miller-Young was sentenced to community service, anger-management classes, and $493 in restitution to the teen she assaulted.
On March 4, Miller-Young – whose academic focus is on black cultural studies, pornography and sex work – came across a group of pro-life students with graphic anti-abortion signs and essentially became frenzied by the exhibit, leading a small mob of students to chant "tear down the sign" before she and two other students stormed off with one of the displays.
The scholar, who was pregnant at the time, then engaged in an altercation with a teenage prolife protester who had followed the educator to retrieve it. Much of the scuffle was caught on camera, and it left visible scratches on the young girl's arms.
Read the Life Legal Defense Foundation civil complaint.
Related: Prof Who Stole, Destroyed Prolife Poster Says Actions 'Moral' Set Good Example 
Related: Catherine Short's statement to Judge Hill
Like The College Fix on Facebook / Follow us on Twitter
IMAGE: YouTube screenshot