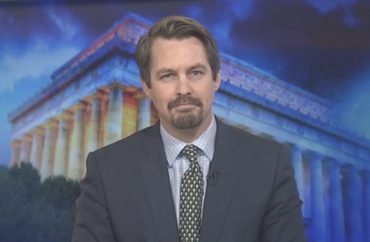 Names pantheism as their religion
A prominent Catholic theologian and professor who helped his students push for a campuswide ban on pornography says that all colleges and universities, regardless of their official affiliation, are religious institutions.
In an exclusive interview with The College Fix at his home near Washington D.C., Chad Pecknold, a theology professor at Catholic University of America, made the observation that all secular colleges and universities instruct students in religious doctrine and instill religious values in them.
Secular institutions faithfully preach a form of pantheism, and their holy grails — think LGBTQ and abortion rights — are sacrosanct and cannot be criticized, he said. In contrast, religious institutions such as Catholic universities advance principles grounded in the divine, he said.
"They're in the business of catechetical formation," the professor told The Fix. "The devout school is doing exactly what an impious school is doing. An impious school is absolutely forming students, teaching them what to value and what not to value, teaching them what to read and what not to read, teaching them what is virtuous and what is vicious."
"When Catholic higher education is doing its job, it's properly forming people according to what is good, true and beautiful as far as the church understands what is good and true and beautiful," Pecknold said.
"But the secular university is doing the same thing," he added. "They want a certain kind of product, they want a certain kind of student who feels and thinks and acts a certain way. And by and large they're successful, it's just they teach bad religion. [But they] are actually trying to form people in a vision of the world that's religious."
Pecknold rose to prominence in Catholic intellectual circles in 2017 after he led a Twitter seminar on Augustine of Hippo's "City of God" in conjunction with a class he was teaching on the book. The experiment drew widespread praise for serving as a positive platform in elevating theological discussions on social media.
"At a time when virtue and enduring, eternal values can seem the farthest things away from social-media discussions, maybe especially about politics, here were people from all walks of life talking about virtue and the soul and civic engagement," wrote National Review's editor-at-large Kathryn Jean Lopez, who participated in the seminar.
But while he may have extended his classroom into the digital sphere if only for a semester, one of Pecknold's students actualized an idea that originated in his class on Christianity and politics.
After discussing in class a column by New York Times columnist Ross Douthat that called for an outright ban on pornography, Pecknold was amazed that, according to his estimates, 70 percent of the students in his class were on board with the idea.
Two of his students who happened to be on the university student government then decided to push a resolution through that called for a ban on pornographic websites on the university network. The measure ultimately passed by one vote and was promptly implemented by the university administration.
Pecknold, somewhat rejecting the notion that institutions shouldn't play parent, said that colleges and universities, especially Catholic ones, are charged to some extent with the moral formation of their students and should strive to form a campus culture that does not lead to vice.
"What kind of guidance a college can give to its students has to be more than simply professorial advising on which credits you need to graduate," Pecknold said. "That's not the real counsel a university is charged with. The university is charged, on some level, with moral formation, so creating an atmosphere in which it's easier to be virtuous than it is to be vicious is extremely important for a Catholic university that wants to form virtuous leaders."
And whether they realize it or not, secular mainstream universities are also instilling a moral character and religious belief in their students, Pecknold said, one that is a form of pantheism that insists that everything is divine.
Pantheism was the inevitable path of one of two trajectories the Puritan cultural seed of America would lead to, Pecknold continued, citing Alexis De Tocqueville. The other trajectory necessarily leads back to Catholicism, the root of western Christian faiths, he said.
"We give special veneration to certain holy ideas, LGBT, diversity ends up being a kind of holy grail, a kind of Justice Kennedy definition of human existence… these are all kinds of holy ideas that are enshrined and are protected like they are religious doctrines," the theologian said, referring to Justice Anthony Kennedy's majority opinion in Planned Parenthood v. Casey where the justice declared that "at the heart of liberty is the right to define one's own concept of existence, of meaning, of the universe, and of the mystery of human life."
"If you want to test it," Pecknold continued, "just push against one of the holy ideas, push against the inviolability of the goodness of being able to choose your gender, push against that and you'll see what a holy idea it is. It is such a holy idea that you will be shamed, you will wear the scarlet letter, to go back to the Puritan example."
"That progressive pantheism plays itself out in ways that are still recognizably puritan in terms of how it shames and regulates what is believed," he concluded, pointing to "cancel culture" as a prime example.
MORE: Catholic university will ban hundreds of porn sites from school network
IMAGE: YouTube screenshot
Like The College Fix on Facebook / Follow us on Twitter