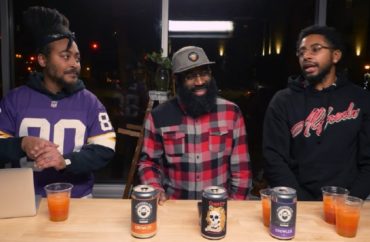 A new course under development by a University of Michigan student aims to examine "diversity awareness" in the production of craft beer in the United States, according to a Facebook screenshot of the course description obtained by The College Fix.
As explained in the Facebook post, the course plans to use "mainstream media articles," rather than academic papers, to spur discussion on critical equality issues in the craft brewing industry.
"Each week, we will explore an article on an issue facing the Craft Beer industry in regards to Gender and Race from a mainstream outlet (no academic papers) and a brew tasting and discussion," the description of the course says.
Course proposal creator Chris Finelli, a graduate student and program assistant at the UM Flint Center for Entrepreneurship, says it fills a vacant space in the curriculum of schools that offer craft brewing certificates.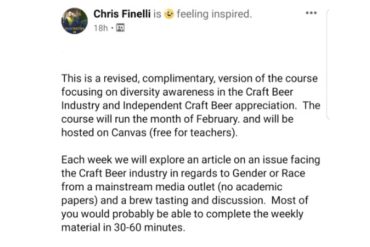 He said a diversity course is not currently one of the requirements that schools have for students of the discipline.
"As you may know some major institutions have developed certificate programs related to the craft beer industry. Their courses are mostly focused on the business and brewing aspect," Finelli told The Fix via Facebook Messenger.
"My course seems to be novel as it focuses on the cultural aspects of the craft beer industry while pairing it with a tasting experience to drive and informative and challenging, yet an enjoyable experience," he said.
The craft beer industry has long been plagued by issues of inequality and is a major reason for the necessity of this course material in craft brewing curriculum, Finelli told The Fix.
"The craft beer [industry] in the US is very much driven by white men. Through the exploration of pop news articles students will be exposed to the historical role women played in early home brewing, how the Black Community were involved in the industry pre-prohibition, and how current Black Brewers are influencing industry changes while helping to advance cultural inclusion in the Craft Beer Community," he said.
Though the course has yet to become an official part of the craft brewing curriculum, Finelli says he has plans to present it to administrators in the future for use in graduate school programs.
"It is an independent pet project of mine. Although I would love the [chance] to roll it out as a full graduate class one day," he told The College Fix.
Currently 36 universities offer degrees or certificates in craft brewing in the U.S. according to BeerInfo.
A University of Michigan spokesperson told The Fix via email that the university would "not respond to a hypothetical," when asked if the school would have any interest in offering the course were it presented as a proposal. The school does not currently offer a degree related to brewing.
The College Fix emailed the Women's and Gender Studies department and asked if it would be interested in hosting the course, but did not receive a response.
MORE: Outdoor recreation is a 'white-dominated space,' professor says
IMAGES: Black Brewers Podcast/YouTube; Facebook
Like The College Fix on Facebook / Follow us on Twitter