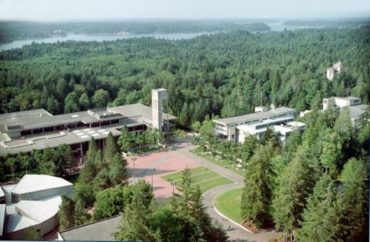 The law, if implemented, would also redesign the school seal and mandate equitable distribution of school funds
The chaos at Evergreen State College at the end of the academic year produced varied reactions: The school's president, for instance, folded to numerous student demands, while a Washington state lawmaker promoted legislation to privatize the college.
One of its neighbors in Olympia, however, has put forth a nontraditional response, proposing that the school be renamed to more closely represent its campus atmosphere.
Initiative Measure No. 953, also known as the Rationalization of Higher Education Act, proposes to rename the college "The Evergreen State Social Justice Warrior PC Indoctrination Compound."
The ballot initiative would also redesign the college's official seal and mandate that all funds it spends are done so without regard to race or sex.
Arthur West, 55, filed the ballot initiative after witnessing the racial kerfuffle at Evergreen State earlier this year.
"I don't think people fully understand how ridiculous the situation [at Evergreen] is," West told The College Fix in a phone interview. "People are paying tens of thousands of dollars to send their children to this institution, and their kids are being indoctrinated into becoming political zealots with very little discipline or control."
A longtime resident of Olympia who lives about fifteen minutes from Evergreen State, West claimed he has witnessed the college get progressively worse throughout the years.
"It could be a good institution," he said, "but it's being taken over by a few professors who are teaching students to be spoiled children with no real concern for effective social change."
In addition to renaming the college, West's proposed initiative would mandate that "all approved expenditures are for, and will only be used to provide, services, programs, employment, policies, and activities that are without distinction or preference on account of race, color, caste, or sex."
The measure would also re-design Evergreen's official seal to feature "a young anarchist in a brown shirt, hobnailed jack boots, and a black face mask" trampling on the Constitution, the Declaration of Independence, the Bible and numerous great works of Western literature.
It is unlikely, West told The Fix, that this initiative will actually become law: He must collect a certain number of signatures—8 percent of the number of voters from the most recent gubernatorial election—in order to have the measure presented to the Legislature.
Reached by phone, a representative of the state attorney general's office told The Fix that West has not yet turned in any signatures.
Evergreen State College did not respond to repeated requests for comment from The College Fix
West admitted he will likely not collect the required number of signatures in time, but this effort is more intended to humorously prove a point about the behavior at Evergreen State.
"The first thing you do to legitimize something," he said, "is to take it seriously. I really don't think the crazy actions at Evergreen are worthy of serious consideration.
"People should recognize that this is not normal behavior."
Like The College Fix on Facebook / Follow us on Twitter