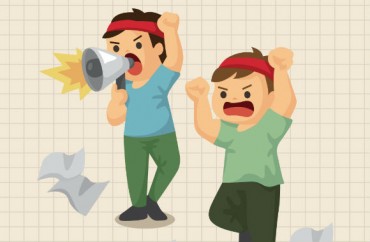 Approximately 200 student protesters at Wisconsin's Beloit College crashed a Wednesday evening event sponsored by the Young Americans for Freedom … and ultimately shut it down.
Erik Prince, founder of Blackwater Worldwide, was to be the night's featured speaker, but demonstrators "piled chairs onto the stage" and beat on drums to prevent him from delivering his speech, according to GazetteXtra. They also unfurled a banner which read "ERIK PRINCE = WAR CRIMINAL."
Blackwater is the private military company utilized in the Iraq and Afghanistan military operations. Four Blackwater guards were tried and convicted in a US court for the 2007 killings of 17 Iraqi civilians.
Interim Dean of Students Cecil Youngblood eventually canceled the lecture resulting in cheers from the protesters and even more drum beating.
Protests prompt Beloit College to cancel Erik Prince lecture https://t.co/yyzyR28H9a pic.twitter.com/ZD8p4bGZ6y

— Wisconsin State Journal (@WiStateJournal) March 28, 2019
In yet another demonstration of ignorance regarding free expression, undergrad Rose Johnson said she feels that if a "critical mass" of students show they don't want somebody to speak on campus, then "they should have a say in whether or not that speaker is welcome in our home."
The Beloit Daily News notes another protester, Jason Lansing, said the YAF "likes to use this free speech (defense) and things like that because we have freedom of speech here and we should have that here, but they choose to bring the worst of the worst here."
Of course, Beloit is a private school so administrators can make rules for speakers however they see fit (but best of luck defining "critical mass" and "worst of the worst"). In this case, however, Beloit officials sided with the YAF.
In a statement Wednesday night, Beloit College condemned the protesters and said the event was canceled because of "disruptive protests and safety concerns."

"As an institution of higher learning, open dialogue on all topics is one of our core principles," the statement read. "Tonight's events fell unacceptably short of this core principle, and we condemn the behavior of those who disrupted the event. The college will begin an investigation immediately." …

Kyle Ferrebee, a program officer with Young Americans for Freedom who was at Beloit College on Wednesday, slammed the protesters for "trying to silence other ideas" before the event was canceled.

"It's unfortunate. We live in an era where students think that they can control the campus," Ferrebee said in an interview. "Campuses have lost a lot of authority over maintaining decorum. We go to places where this is supposed to be a battleground of ideas."
The Beloit Daily News noted on its Twitter feed that Prince had threatened legal action:
2/2 "It's sad the administration of this college lacked the moral courage to enforce free speech and to defend free speech," Prince said. "Fortunately, @POTUS will defend free speech and I think the college will be hearing from the court soon on this because enough is enough."

— Beloit Daily News (@BDNConnection) March 28, 2019
Read the GazetteXtra and Daily News articles.
MORE: 11 times campus speakers were shouted down by leftist protesters in 2017-18
MORE: Conservative scholar shouted down at Middlebury College, has to leave
IMAGE: notkoo / Shutterstock.com
Like The College Fix on Facebook / Follow us on Twitter