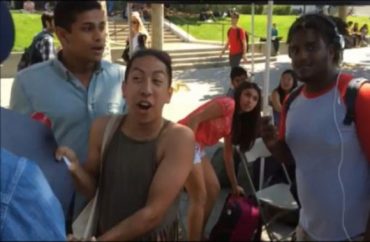 Student protesters bum-rushed a Berkeley College Republicans' tabling event Wednesday and tried to abscond with their life-size Donald Trump cardboard cut out.
"A group of protesters with a megaphone confronted our table and proceeded to snatch and attempt to rip up our Donald Trump cut-out," Jose Diaz, president of Berkeley College Republicans, said in a statement to The College Fix.
A short video of the incident shows a protester grabbing the Trump cut out as a College Republican stops them. A crowd closely surrounds the altercation, and as another College Republican records the incident on his cell phone, his device is roughly batted down by another apparent student protester.
The video was provided to The College Fix:
According to Diaz: "I jumped up and grabbed the hands of a protestor to prevent him from [taking the Trump cut out]. The group of protestors then circled us and began yelling slurs at us in reference to Donald Trump."
"Slurs such as racists, bigots, and 'pieces of sh**' was yelled out by the protestors," Diaz added. "They demanded that the cut-out be removed due to the perceived offensive nature that it represents towards them. At the same time of this confrontation, one of our members attempting to film the incident was physically harassed by one of the protestors and had his phone taken."
MORE: 'Escape hatch' built for Berkeley admin building in wake of repeated sit-ins
MORE: Berkeley students protest white professor who rapped 'stop scapegoating cops' in class
Police arrived shortly thereafter to take statements and incident reports, as well as to stay on scene to keep the peace, according to the Berkeley College Republicans.
Photos posted to the group's Facebook page show a campus police officer standing nearby the tabling and a somewhat damaged Trump cut out that remained standing after the scuffle. The Berkeley GOP said their members refuse to be intimidated, despite the incident.
"I will continue to remain steadfast in exercising our right to free speech," Diaz said. "My goal as president of the Berkeley College Republicans is to inspire and encourage others who sometimes feel ostracized here at UC Berkeley to do the same."
Claire Chiara, executive director of the group, told The College Fix the incident happened on the same day CNN published a special report on how Berkeley College Republicans are constantly attacked and criticized on a campus famed for being the birthplace of the free speech movement.
#Trump supporters, scorned…on a college campus synonymous w political free speech. @KyungLahCNN at @UCBerkeley -> https://t.co/mvz05oJArK

— OutFrontCNN (@OutFrontCNN) September 8, 2016
"The UC Berkeley campus community has a universal intolerance of Republican, conservative, or right-leaning views," Chiara told The Fix.
"[A]ny opinions differing from the majority's views are condemned and ignored by professors, administrators, and students alike," she said. "The College Republicans serve not only as a school club, but also as the guarantors of intellectual discourse and ideological debate, tenets of a university education."
Like The College Fix on Facebook / Follow us on Twitter