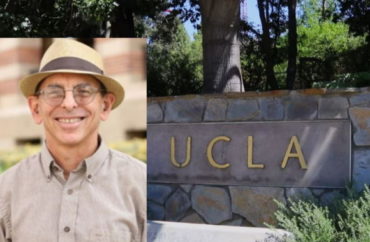 'I strongly suspect that mainstream U.S. higher education is morally and intellectually corrupt, beyond the possibility of self-repair'
A longtime professor at UCLA has announced his retirement after witnessing what he called a "woke faction" attack an esteemed colleague. Professor Joseph Manson also cited extreme political correctness and anti-Zionism on campus as reasons for his departure.
Manson, a tenured professor in the UCLA Anthropology Department, publicly announced his retirement in a blog post July 4 that quickly went viral.
Manson opened his piece by referencing several professors across the nation who have either resigned or were fired due to cancel culture.
"I'm a professor, retiring at 62 because the Woke takeover of higher education has ruined academic life. 'Another one?' you ask. "What does this guy have to say that hasn't already been said by Jordan Peterson, Peter Boghossian, Joshua Katz, or Bo Winegard?" wrote Manson.
Manson wrote his retirement was caused in part by the "defenestration of a colleague" in his department. Manson did not respond to requests from The College Fix seeking comment.
For decades, the anthropology department was peaceful and "intellectually inclusive," but things began to change in the late 2000s, the professor wrote.
"Gradually, one hire at a time, practitioners of 'critical' (i.e. far-left postmodernist) anthropology, some of them lying about their beliefs during job interviews, came to comprise the department's most influential clique. These militant faculty recruited even more extremely militant graduate students to work with them," Manson stated.
The anthropology professor then provided details about the "public torment and humiliation" of his colleague, P. Jeffrey Brantingham, who had created software to predict urban crime through simulation models. Manson described the backlash that turned Brantingham, a "standard-issue liberal Democrat," into a "pariah."
"In Spring 2018, the department's Anthropology Graduate Students Association passed a resolution accusing Jeff's research of (among other counter-revolutionary sins) 'entrench[ing] and naturaliz[ing] the criminalization of Blackness in the United States' and calling for 'referring' his research to UCLA's Vice Chancellor for Research, presumably for some sort of investigation. This document contains no trace of scholarly argument, but instead resembles a religious proclamation of anathema," Manson wrote.
Manson discussed the "pervasive institutional doublethink" that characterized the anthropology department, partly ascribing it to Brantingham's decision to avoid confrontation with his colleagues despite Manson offering to help. Even so, the principal cause of the doublethink was "fear of the Woke faction," Manson stated.
"Not only was Jeff ostracized, he was unpersoned. None of the faculty talked about him, if they could possibly avoid it. Meanwhile, our department chair opened most faculty meetings by solemnly intoning that our department was a community, a family, and that 'we're here for each other.' In private conversations, I was able to elicit from some of my colleagues an embarrassed acknowledgment that the Woke faction had treated Jeff abominably, and that we strongly resembled a dysfunctional family in denial," he added.
The professor named two other instances of colleagues circumventing ire from more progressive faculty members. One colleague voted against his beliefs to avoid being called racist, while another used the term "Latinx" although the scholar had used the term "Latinas" extensively in the past.
"UCLA as a whole is showing all signs of Woke capture that typify the contemporary U.S. university," according to Mason.
"Statements recounting one's activities on behalf of Equity, Diversity and Inclusion are mandatory in faculty job applications and in promotion dossiers. Among its 'Gender Recognition' policy recommendations, a university task force is calling for 'curricular updates…For example: inclusion of non-binary and intersex identities in biology courses for health care practitioners.' Is this a threat to pressure course instructors in the life sciences and social sciences to deny the human sex binary?"
Manson also mentioned an anti-Zionist sentiment on campus, which he referred to as "thinly disguised Jew-hatred."
"In May 2019, one of my colleagues, Kyeyoung Park, invited a guest lecturer, San Francisco State University professor Rabab Abdulhadi, to her class to proclaim that Zionism is a form of white supremacism," Manson wrote.
Manson summed up the state of American universities in his own words: "As Doris Day sang, the future's not ours to see, but it's a good bet that the grip of Woke orthodoxy on the University of California, and most other U.S. universities, will tighten in the years to come. The younger faculty tend to be more Woke than their elders. Administrators and student 'protesters' perform elaborately choreographed routines that end with the former enacting policies that they wanted to enact anyway, for which the latter's public temper tantrums serve as a pretext."
Although Manson is choosing a pension over a salary by leaving, he prefers "getting out" to staying at UCLA.
"But I strongly suspect that mainstream U.S. higher education is morally and intellectually corrupt, beyond the possibility of self-repair, and therefore no longer a worthwhile setting in which to spend my time and effort. The rise of alternative institutions, like the University of Austin and Ralston College, is a hopeful sign, but so far it's been happening painfully slowly," Manson said.
UCLA did not respond to requests for comment from The College Fix.
MORE: Check out The College Fix's Campus Cancel Culture Database
Like The College Fix on Facebook / Follow us on Twitter