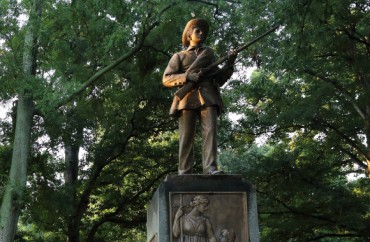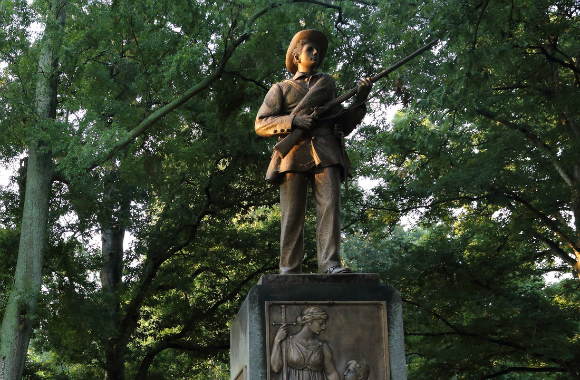 A rowdy group of protesters that included students and professors forcibly toppled the controversial "Silent Sam" war memorial statue at the University of North Carolina, Chapel Hill, on Monday night.
The memorial's destruction came the night before the start of the fall semester and six months after a group of professors pledged to bring down the statue by force after administrators refused to remove the controversial display.
The "Silent Sam" statue, erected in 1913 to memorialize the Chapel Hill students who left college to fight for the South, has long been a target of ire, accused for years of representing white supremacy and institutionalized and current racism on campus.
Repeated protests, sit-ins and vandalism of the statue has plagued the campus for the last several years. But professors, students and community activists became especially incensed after university officials said they could not legally remove Silent Sam due to a 2015 law which "forbids removal of monuments on public property without permission from a historic commission."
On Monday night, they took matters into their own hands.
Various news reports stated that the protestors numbered about 300 and included students, faculty and community activists. There was a heavy police presence and at times tensions between demonstrators and officers. People chanted "stand up, fight back" and "hey, hey, ho, ho, this racist statue has got to go." During the protest, protesters also hung large banners around the statue and tied them together, blocking it from view.
"Around 9:30 p.m., demonstrators wrapped ropes around the monument, which were concealed by the banners, and pulled in one direction, according to witnesses. The monument fell within 10 seconds," the Daily Tar Heel campus newspaper reports. "Police officers stood over the monument that students began to cover in dirt, calling for the crowd to back away. Hundreds of demonstrators shouted in triumph as they surrounded the toppled monument."
"I watched it groan and shiver and come asunder," Dwayne Dixon, an Asian studies professor at the university told the Daily Tar Heel. "I mean, it feels biblical. It's thundering and starting to rain. It's almost like heaven is trying to wash away the soiled contaminated remains."
The University of North Carolina-Chapel Hill issued a statement Monday night calling the protest "dangerous," and added officials will assess the damage.
According to WRAL, Gov. Roy Cooper said Monday night that he "understands that many people are frustrated by the pace of change and he shares their frustration, but violent destruction of public property has no place in our communities."
MORE: UNC trustee: Students protesting campus war memorial 'entitled wimps'
MORE: Faculty group ultimatum: We will take down UNC's 'Silent Sam' statue ourselves
IMAGE: Don McCullough / Flickr
Like The College Fix on Facebook / Follow us on Twitter