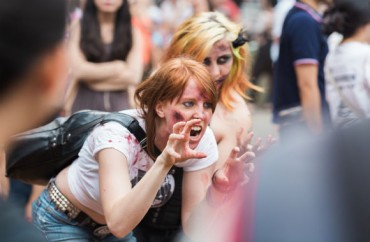 If your son went to prison for rape, you as a parent are responsible for rape culture, or something.
That's the muddled message peddled by protesters at St. Catherine University in St. Paul, Minn., a campus where 97 percent of undergraduates are women, the Star Tribune reports.
They blasted the school's "toxic rape culture" at a Monday protest where they marched with signs including "Rape culture is here" and "We will not be silenced."
The school has caved, cutting ties to event organizer Heartland and its founders Craig and Patricia Neal because their son went to prison for rape. St. Catherine's can't abide by that and still offer "unwavering support for victims of sexual violence," President Andrea Lee wrote.
MORE: Witches put an impotence hex on Brock Turner
Heartland has hosted annual workshops at St. Catherine's for several years, but outside its workshop last week, the self-identified victim of Alec Neal's knifepoint rape, Sarah Super, "led a small group of protesters on the edge of campus":
Super said the protest was inspired in part by the recent public uproar over the Brock Turner sexual assault case at Stanford University. The case drew headlines after Turner's victim released an impassioned statement opposing his family's attempts to win him leniency.

"Turner's family rallied around Brock in ways that are pretty similar to my perpetrator's family," said Super. …

The Neals, though, say they never attempted to minimize their son's crime. "We are heartbroken over the suffering Sarah has experienced," they wrote.
MORE: Only the online mob wants to brutalize Brock Turner
Super's beef with the Neals has to do with the "letter-writing campaign attesting to Alec Neal's character before his sentencing," the Star Tribune says, though the Neals say none of those letters asked for Alec to escape accountability for his crime.
St. Catherine's pulled back an earlier statement right after last week's protest in which it reiterated basic Catholic values of "compassion and mercy" for both victim and victimizer and their families.
That led to Monday's protest and Lee's reversal and spurning of the Neals. Other self-described rape victims are coming to the Neals' defense, however:
In an interview, [Minneapolis investment advisor Jina] Penn-Tracy, 48, said she understands Super's anger, "but attacking their business, trying to drive them out of business, is an aggression, and I don't think it's going to bring healing."
Penn-Tracy called the protest a "vendetta."
But it has already paid dividends for the protesters: St. Catherine's agreed to "create a task force to address larger concerns" on the 97-percent women campus that promotes "toxic rape culture."
Like The College Fix on Facebook / Follow us on Twitter
IMAGE: rawmn/Shutterstock