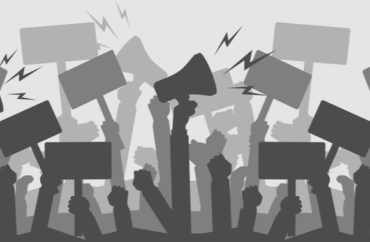 Hundreds of grad students pledge not to fill vacant positions
Labor turmoil has engulfed numerous University of California campuses this week after the mass firing of dozens of striking graduate students last Friday, with activists rallying, vowing to strike, pledging to leave the now-vacant positions open, and in at least one case shutting down part of a campus in response to the major layoffs.
The University of California, Santa Cruz, gave the boot to several dozen grad students on Friday who had been striking in favor of a significant monthly cost-of-living raise. The students had been demanding a COLA hike of over $1,400 dollars.
Strikers had escalated their tactics in recent weeks; they had begun in December by refusing to submit final grades, and at the end of February they declared they would stop teaching classes, holding office hours or doing research. The school in firing the strikers cited an "abandonment and sustained willful dereliction of your job responsibilities."
On Monday, in response to that firing, students across the UC system escalated their activism to a significant degree. The World Socialist Web Site reports that "solidarity actions, and in some cases, strike votes at most if not all of the 10 UC campuses" have sprung up following Santa Cruz's controversial decision.
Strikers at UCSC "shut down campus" following the firing, the website reports, with protesters "blockad[ing] the main road leading to campus with a banner reading, 'UC-wide solidarity'." Over 550 Santa Cruz graduate students "have pledged not to fill the TA vacancies left by the firings." A GoFundMe in support of the strike has raised over $230,000. The strikers have received "statements of support…from universities across the US, such as Northwestern University, University of Chicago, Rutgers University, and internationally, from the University of Leeds in the United Kingdom."
At numerous other UC universities, meanwhile, students have pledged their support and solidarity to the fired grad students at Santa Cruz:
At UC Santa Barbara, at least several dozen graduate students rallied under the banner, "You're gonna have to fire us too, Janet!", referring to UC President and Obama-era Secretary of Homeland Security Janet Napolitano. Nearly 1,000 attended a demonstration at UC Davis. At UCLA 100-150 rallied, about 200 at UC Irvine, and many at UCSD as well. Medical students at UC San Francisco (UCSF) held a sit-in in solidarity at both of the university's campuses.

At UC Berkeley, graduate students held a general assembly and voted to strike sometime in roughly the next week. Black Studies graduate students announced a strike this weekend.
One student-organizer who spoke to the World Socialist Web site criticized the United Auto Workers, the union that represents the students; that organization has not approved of the strike measures undertaken by the activists. "This began at UCSC in a strike against the UAW. The UAW, from the international level down to our local, has done a lot to squash rank-and-file movements… I don't put faith in elected officials. The UAW just takes our dues to support Democrats."
MORE: UC Santa Cruz fires dozens of striking grad students
IMAGE: Tetiana Yurchenko / Shutterstock.com
Like The College Fix on Facebook / Follow us on Twitter