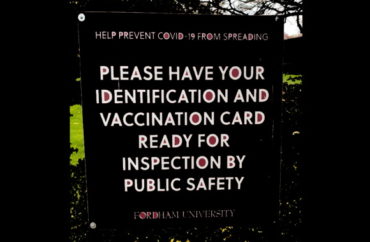 A University of Washington health sciences scholar who helped co-author a study that found college students are more likely to be injured by COVID booster mandates than the virus itself said higher education leaders should reevaluate their policies with the benefit of hindsight.
Kevin Bardosh, affiliate assistant professor at the University of Washington who studies public health, said both campus and the nation's public health leaders would do well to return to traditional disease management approaches.
"When you mandate something, you're not enhancing personal agency. You're telling somebody what to do. You're also obfuscating all the situations where people for legitimate reasons can't do that or don't want to do that," Bardosh told The College Fix in a telephone interview. "Those people effectively become like black sheep to the bureaucratic system."
Bardosh is "an applied medical anthropologist and implementation scientist focused on using social science and community engagement to improve public health delivery and policy," according to his faculty bio.
Within public health, there are two broad approaches to disease management, Bardosh said.
One, having emerged from the HIV-AIDS movement, is based in a philosophy of empowering individuals with the best information and resources available, he said.
The other is focused on biosecurity, biocontainment, and adherence to strict sanitation guidelines – an approach exemplified in the contexts of animal disease control, he said.
"I think in every outbreak there's a tension between those two approaches," Bardosh said, but added that, pre-COVID, public health leaders tended toward the more bottom-up approach.
This changed drastically early in the COVIC pandemic, Bardosh said. But after an initial period of lockdowns, he said he believed public health leaders would gravitate back toward an approach of education, participation and empowerment.
6 useful concepts to help think about the 'adverse effects' from pandemic NPI policies

1. Unintended consequences (sociology)
2. Social harms (criminology)
3. Collateral damage (war)
4. Iatrogenic harm (medicine)
5. Compound risk (disasters)
6. Cost benefit analysis (economics)

— Kevin Bardosh (@KevinBardosh) October 28, 2022
Never did he think vaccine mandates or passports would be implemented.
"I was obviously incredibly wrong," he said.
But he had what he said he thought were sound reasons.
"I sort of knew that these vaccines would be very unlikely [ … to] stop transmission in any durable way," he said. "It's a coronavirus, right? It's going to change pretty quick. And also the original [studies] were not tested for transmission."
"So, I kind of saw them like annual influenza vaccines," Bardosh said. "Obviously a different epidemic or outbreak, but kind of comparable for how effective they would be."
Early data from Israel and Britain, Bardosh said, supported his suspicions about the effectiveness of the COVID vaccines, demonstrating that vaccinated individuals were still contracting the virus. Hence, there was never a strong basis for vaccine mandates, he said.
Yet, contrary to Bardosh's predictions, many authorities and institutions doubled down on their biosecurity-biocontainment approach by eventually mandating COVID vaccination.
2008 report by American Civil Liberties Union, criticizing Bush's biosecurity & pandemic policies:

– Coercion is counterproductive
– Voluntary social distancing works
– Tough public health measures harm the most vulnerable

Where was ACLU during covid?https://t.co/KoJaHXg9Jd pic.twitter.com/o1QhFumbY6

— Kevin Bardosh (@KevinBardosh) November 2, 2022
When asked about the impact of these kinds of policies, past and present, on higher education, Bardosh noted different universities have taken different approaches over the course of the pandemic.
"Some have not had mandates the whole time. Right? [Some had] mask mandates. And then some had a two-dose vaccine mandate – and a lot of those have kind of quietly dropped off or [universities are] not forcefully implementing it."
Yet, Bardosh said, he believes "the majority still have a two-dose vaccine mandate in place."
"And then, you have this sort of next tier, which is super-COVID-safety-universities with a second booster requirement and N95 masks, et cetera," he said.
These types of campus environments in particular have been — and can still be — quite challenging for students' overall health, he said.
"I think that level of stress and anxiety hasn't really been adequately taken into consideration by university administrations," he said. "I mean, we're already facing massive mental health challenges for young people in America. Every chart that you look at is increasing in terms of anxiety, depression, stress, etc. So I think there's a big cost to maximizing COVID control and not considering those other negative externalities."
Additionally, some individuals may find compliance with these kinds of policies more stressful or detrimental to their mental health based on their personality, political affiliation, and socio-economic status, he said.
Yet, Bardosh said, "There's little sympathy for people who are unvaccinated in general," regardless of their reasons for choosing to not receive this particular medical intervention.
In an attempt to influence debate regarding at least one of type of university COVID policy, as well as provide evidence to be considered by university administrators setting policy, Bardosh and several colleagues performed "an objective risk benefit analysis based on the available data" to assess whether "boosters for 18-29 year olds [are] a reasonable thing."
The findings of this analysis by Bardosh and his colleagues were published as a pre-print article in September and have since been reported on by multiple news outlets including The College Fix.
Their results indicated the harms of COVID boosters likely outweigh the benefits for the age group examined. Toward the end of the paper, the authors suggested their arguments against booster mandates also apply to mandates for the initial two-dose COVID vaccine.
Despite what Bardosh described as a certain degree of "uncertainty" inherent to the analyses, he said, "I don't think people need a clearer argument against a set of policies than that."
Discussing how people have reacted to the paper, Bardosh said "the response has been really positive" and he's "looking forward to more debate," which is something he believes is important for public health, as well as democracy.
"[We have] this incredibly bureaucratic society, a managerial society, a society that is fundamentally based on bureaucracy [and] quantification to the detriment of individual autonomy and individual decision making," he said.
Following "this whole fiasco" around COVID mandates, Bardosh said he is hopeful there will be increased discussion of matters related to public health and other aspects of medicine, the pharmaceutical industry, and relevant approval and regulatory processes.
MORE: College students more likely to be injured by COVID booster mandates than virus itself
IMAGE: Twitter screenshot illustration
Like The College Fix on Facebook / Follow us on Twitter