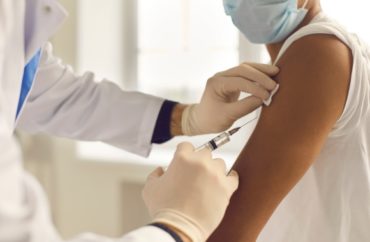 Study flags risk-benefit warning to college students on mandatory COVID boosters
A recent study conducted by scholars at Oxford, Harvard, Johns Hopkins and other prestigious institutions found that COVID-19 booster mandates at universities result in net harms to the low-risk demographic served on campuses while providing little if any net benefit to the rest of society.
"Using CDC and sponsor-reported adverse event data, we find that booster mandates may cause a net expected harm," states the abstract of their September 12 preprint paper, in which they also posit COVID booster mandates are coercive and in conflict with well-established ethical and public health principles.
On a hypothetical campus, about 22,000 to 30,000 previously uninfected 18- to 29-year-olds would have to be given a COVID booster to prevent one single hospitalization.
Yet the chances of these young boosted individuals experiencing an adverse effect from the shot is considerably higher, according to the study.
The scholars estimate 1,373 to 3,234 students would experience side effects that would temporarily interfere with their ability to engage in day-to-day activities, and 18 to 98 students would experience more serious adverse events, such as death, hospitalization, significant or persistent disability or life-threatening reactions.
Among these serious adverse events, the scholars estimate approximately three cases of myocarditis or pericarditis, which college-age men tend to experience at a comparatively higher rate following COVID vaccination than other segments of the population.
Despite the lack of evidence that students or society benefit from university vaccine mandates for COVID, however, the scholars point out roughly 1,000 North American universities maintain their initial two-dose vaccine mandate, and approximately 300 require boosters.
Among those requiring boosters are such notable institutions as Harvard, Rutgers, Smith, Tufts, schools within the UC system, Wake Forest University, and Whitman.
Given the level of coercion inherent to the mandates, the high degree of protection many students already have due to previous infection, and the lack of evidence demonstrating COVID-19 boosters prevent transmission of the virus to others, the scholars also take an ethical stand against mandatory boosters at colleges and universities, as well as the initial mandates for the initial two-doses.
"Where mass vaccination involves harm to a minority of individuals or coercion or undue inducements are used to increase vaccine uptake, proportionality requires that these considerations be outweighed by public health benefits, typically in the form of reduced transmission from vaccinated individuals to others," the authors state.
Its nine authors include Kevin Bardosh of the University of Washington Medical School, Euzebiusz Jamrozik with the University of Oxford, Salmaan Keshavjee of Harvard Medical School, Vinay Prasad with UC San Francisco, Martin Makary and Stefan Baral of John Hopkins University, and Tracy Beth Hoeg with the Florida Department of Health.
They also suggest mandatory COVID boosters "create a fear of infection among young healthy people (out of proportion to the actual risks) and contribute to worsening mental health which predated the pandemic."
On a larger societal level, they note, "This punitive public health approach may also provoke reactance in young adults, with long-term negative consequences on trust in society and institutions and vaccine confidence in general…"
As for why some universities persist in maintaining such policies, the scholars hypothesize it may be due to a belief that mandates actually create a safe environment, or it may be to further some other social benefit: "normalize compliance with vaccination as a social duty," "promote solidarity," create perceptions of safety, or "counteract anti-vaccination sentiment." [Italics in original.]
They also speculate the "policy of two-dose mandates may represent status quo bias"; that is, "when a rule is normalised it remains even when it has no (current) rational basis."
Yet, the authors also suggest these policies may be representative of a larger, unsettling trend at universities toward "intolerance in university bureaucracies that value compliance over individual freedoms."
"Mandates, by their nature," the authors explain, "encourage conformity and acquiescence to authority, and exclude those with different views or values."
"Though universities might take pride in being places that permit the free exchange of ideas, mandates reduce the scope for reasoned debate regarding scientific uncertainties or conflicts of ethical values," they add, before rhetorically asking, "[H]ow many universities have held public debates about mandatory Covid-19 vaccination?"
"To our knowledge," they answer, "very few such debates have taken place in North American institutions."
MORE: Nationwide group fights ongoing COVID vaccine, booster mandates on college campuses
IMAGE: Shutterstock
Like The College Fix on Facebook / Follow us on Twitter