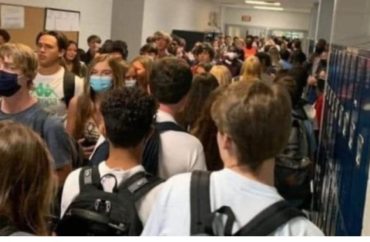 Nearly 30 free speech groups and professors sign letter denouncing action
A public high school in Georgia that found itself under fire for its crowded hallways has now come under further criticism for threatening punishment of students who paint the school in a negative light.
Its threat of punishment led to a rebuke from the Student Press Law Center and a coalition of 28 other free-speech and freedom of the press supporters, which sent a letter to the school on August 7. Signers include the Electronic Frontier Foundation, Foundation for Individual Rights in Education and the Society of Professional Journalists.
North Paulding High School suspended two students earlier this month after they tweeted pictures showing students back at school — packed into hallways — after they returned to campus. The high school had originally been shut down in March as part of Governor Brian Kemp's coronavirus guidelines.
One student, Hannah Waters, told Buzzfeed News she received a five-day suspension after she posted a single photo and single video on her Twitter in early August of the crowded hallway. Her suspension and the suspension of another student who posted similar images have both been rescinded, according to the Atlanta Journal-Constitution.
But after her photo and another student's photo went viral, the principal of the school, Gabe Carmona, allegedly told students over the intercom that they could be punished for publicly criticizing the school.
In response, the Student Press Law Center sent a letter to the school, urging it to back down from the threats.
The letter, addressed to Carmona, stated:
As organizations and individuals dedicated to protecting the First Amendment right of free expression, we are deeply concerned by recent news reports that at least two students at North Paulding High School have been severely disciplined for circulating a photo of a crowded hallway, raising awareness of concerns they have regarding the health and safety of themselves and their peers as they return to school during a global pandemic.

While pleased to hear that some of the suspensions have been rescinded, we are further disturbed by reports that an announcement was made over the school intercom cautioning specifically against casting the school in a negative light and sharing information with the news media. These actions raise serious First Amendment issues, which are only exacerbated by the lasting concerns students and teachers may have about their health and safety this school year.
The group warned that punishing students for voicing criticism of the school only heightens problems between campus leaders and its students.
"Unconstitutionally prohibiting students from speaking about the conditions of the school does not change the conditions of the school or the concerns they have; it only fosters mistrust and fear," the groups wrote.
"This seems all about shooting the messengers. The reality is that it's 2020 and those messengers with their new speech tools aren't going away."
Administrators have now adjusted their plans and will have fewer students in the school at any one time.
However, since the first day back on campus, only 35 students and teachers out of over 2,000 students and teachers, have tested positive for coronavirus, according to a local CBS News affiliate. That represents a positive test rate of less than two percent.
MORE: University president praises free speech while censoring student paper
IMAGE: Hannah Waters/Twitter
Like The College Fix on Facebook / Follow us on Twitter