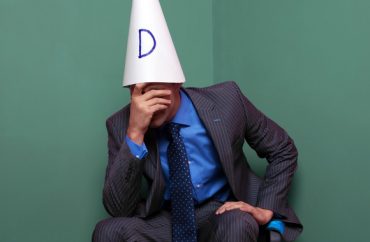 Its ousted president just got hired by another public university
If your high school grades or standardized test scores are holding you back from going to a four-year university, consider Texas Southern University.
An external audit commissioned by the historically black university's Board of Regents found that half of the nearly 8,300 students admitted in the fall semesters 2017-2019 did not meet its academic criteria.
More than a tenth of them received improper scholarships totaling $2.1 million, according to the Houston Chronicle, which obtained the audit by Berkeley Research Group.
The audit of admissions, financial aid and administration practices revealed "higher numbers of students who fall short of academic criteria" – minimum 2.5 GPA and either combined SAT score of 900 (after March 2016) or ACT composite score of 17 -"than previously reported," and admitting them had negative consequences:
Around 63 percent of students in the fall 2017 cohort and around 49 percent in fall 2018 were no longer enrolled at TSU in fall 2019, according to the report. TSU's fall 2017 cohort, of which 56 percent did not meet academic criteria, saw the highest number of withdrawals within the students' first semester. …

Students were still given an average of around $30,000 in financial aid in 2018, $28,800 in 2018, and more than $21,100 in 2019.
The taxpayer-funded institution has long suffered low graduation rates and its law school had its own fraudulent admissions scandal that came to light earlier this year.
MORE: Texas Southern among the 10 worst public universities in America
The audit says the university's most recent troubles were brought to light by a whistleblower who tipped off the Texas Higher Education Coordinating Board in November 2018, "saying the college tried to increase enrollment by encouraging staff to admit all candidates, regardless of their qualifications," according to the Chronicle:
TSU's office of internal audit and insurance investigated and later issued a report that cited criteria for incoming students and the percentages of students who were considered "exceptions," based on their participation in TSU's summer success program or the application of a sliding scale. But the TSU office's report, the Berkeley Research Group wrote in its recent review, included inaccuracies and much lower numbers regarding students who didn't meet the admissions criteria.
Regent Marc Carter had the most critical reaction among board members to the audit. "Nothing devalues a degree more than not adhering to admission standards," he wrote in a statement, and "scholarships should go to students that meet admission standards but cannot afford tuition and to students for high academic achievement."
President Austin Lane (left) was ousted in February in the midst of the growing scandal, after four years at the helm. The internal audit blamed him for not notifying the auditor and regents about the problems in the admissions office, allegations he denied. The board gave him $879,000 in cash and unpaid benefits to get him to leave.
Lane was appointed chancellor at Southern Illinois University-Carbondale on Friday, the day after the Chronicle reported on the external audit of Texas Southern. SIU's statement on his appointment makes no mention of the conditions under which he left the historically black university.
An earlier SIU statement this week, before the trustees approved his appointment, selectively characterized Lane's time at Texas Southern despite the public knowledge of the law school admissions scandal over which he presided:
While at Texas Southern, Lane developed a strategic enrollment management plan that increased student enrollment by 28 percent over a three-year period. The university also posted the highest student persistence, progression and graduation rate increases in school history; saw year-to-year increases in the general operating budget; exceeded fundraising goals; enhanced sponsored research awards and expenditures; and completed a university-wide equity compensation study that led to increases in faculty and staff salaries that were historically below market value.
MORE: UT admissions still plagued by 'cheating at a very high level,' says former regent
IMAGES: RTimages/Shutterstock, Southern Illinois University-Carbondale
Like The College Fix on Facebook / Follow us on Twitter