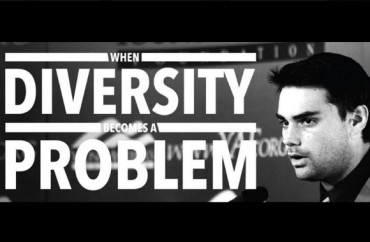 Cal State University Los Angeles on Monday canceled a planned speech on campus by conservative firebrand Ben Shapiro after liberal students objected to his appearance and organized a counter-protest in support of safe spaces.
Shapiro had been slated to speak Thursday at the behest of a Young Americans for Freedom student club on campus, but the event — titled "When Diversity Becomes a Problem" — had enraged students who said it would promote "racist, classist, misogynist, sexist, homophobic, transphobic, ableist, ageist, sizeist, neocolonial, neoliberal and oppressive ideologies."
The students planned a "Power to the People" counter-demonstration for the same time as Shapiro's talk to promote "the value of safe spaces, the importance of naming microaggressions and oppressions, and the language of social justice."
In response to the controversy, Young America's Foundation reports, university President William Covino told the conservative students he decided to reschedule Shapiro's appearance to "arrange for him to appear as part of a group of speakers with differing viewpoints on diversity [to] … better represent our university's dedication to the free exchange of ideas and the value of considering multiple viewpoints."
Undeterred, foundation leaders said they're still going to go through with the event.
"If the university is so threatened by the free exchange of ideas, they can use their security to force us out of the venue," Young America's Foundation spokeswoman Emily Jashinsky said in an email Monday to The College Fix.
"Otherwise we fully intend to proceed with the event as scheduled," she said. "This campus is clearly in desperate need of ideological diversity and YAF is excited to pick up their slack and educate students on conservative principles."
A spokesman for CSU Los Angeles could not immediately be reached for comment late Monday.
For his part, Shapiro said he's prepared to confront campus radicals Thursday.
"The campus fascists have taken over," Shapiro told Breitbart News. "I pay taxes in the state of California; I'm paying for these whiny children to be indoctrinated by radical leftists. For CSULA to pretend that they're trying to provide balance isn't just stupid, it's insultingly stupid."
"I am the balance, and they're too afraid to let me speak," he added. "These aren't diversity warriors. They're jackbooted thugs. If they want to call the men with guns to shut down free speech, they'll demonstrate clearly just who they are. I'll see them on Thursday."
RELATED: Professor challenges students defending conservative campus event to a fight
Like The College Fix on Facebook / Follow us on Twitter