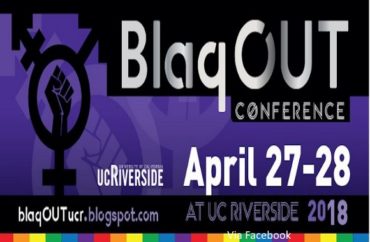 University of California Riverside's LGBT Resource Center is set to host its fifth annual BlaqOUT conference later this month on the school's campus.
The conference is open only to those who are black and gay, according to the event's Facebook page.
"We cordially invite all folks who self identify as Black/AfricanAmerican or of African Descent and as Same Gender Loving, Lesbian, Gay, Bisexual, Transgender, Queer, Questioning or somewhere on the LGBTQ Spectrum, to apply to attend," it states.
White people are among groups not allowed at the event, according to organizers. A question under its FAQs page asks: "Can other people of color, white people and/or straight people attend?" It's answered with a "no."
"No, we are asking our allies to respect the BlaqOUT Conference as a closed space for folks who identify as Black/African American or of African descent and on the LGBT spectrum. If you are an ally to our communities, we encourage you to attend one of the regional or national LGBTQ Conferences scheduled in 2018," the answer states.
The event page also goes into further detail about what the conference entails.
"Through this conference, we hope to create safe and courageous spaces that foster the discussion of issues relevant to those who self identify as Black/African American or of African Communities on the LGBTQ Spectrum. Various workshops, keynotes, and activities will be designed to unite our community and equip us with the resources necessary to face issues that affect us as marginalized individuals," it states.
At the opening night of the conference, two performers called Nia and Ness are expected to perform. Nia and Ness are a "black, lesbian, dancer-poet performance art duo" and their work "aims at a deeper understanding of their co-reality through intense investigation of their individual identities," according to a blog page for the event.
The BlaqOUT facebook page admin denied to comment about their goals for the event when asked by The College Fix.
According to one past attendee listed on the conference website, "BlaqOUT has become this place where I can just be, I can learn new topics, and mingle with other blaqqueer folks," states UC Riverside alum Sanisha Meador.
A detailed schedule is not listed on the Facebook page or the events website.
In March, the BlaqOUT Planning Committee requested to have more "solution based workshops" and asked for black sexual health professionals who could do a workshop on any of the following: Anal/bottoming 101, lesbian sex, lesbian safer sex, and sex while trans, according to its website.
Like The College Fix on Facebook / Follow us on Twitter