Event is part of LGBTQ-themed month
As part of its LGBTQ History Month observances, a public university is offering LGBTQ-themed sex education to its students, though the school will not clarify how the program differs from standard sex ed.
Southern Illinois University has devoted the month of October to LGBTQ history and is offering various events as part of an outreach effort to students.
As part of this monthlong event, the university is providing an "LGBTQ Sex Education" workshop today, Oct. 17, according to a university flier.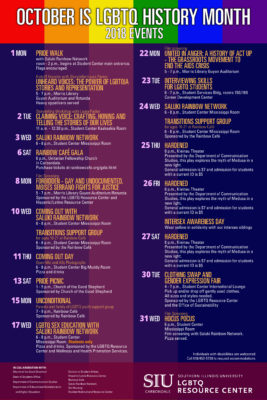 The event is partially sponsored by the LGBTQ Resource Center, which "provides educational outreach, referral information and advocacy services," according to the Resource Center's website.
The event is also sponsored by the school's Wellness and Health Promotion Services. The LGBTQ sex ed workshop is also apparently associated with the Saluki Rainbow Network, according to the flier. The Saluki Rainbow Network is a campus organization focused on "building an LGBTQ+ friendly community on campus by hosting weekly meetings, creating activities, and providing resources & support."
The Fix reached out to the university's LGBTQ Resource Center as well as the Saluki Rainbow Network staff to ask about the curriculum of the sex education class. Neither organization responded to multiple requests for comment.
The month began with a "pride walk;" other events include a "pride picnic," support groups for "transitions," and a "clothing swap and gender expression fair," according to the website.
Other universities have hosted sex ed programs tailored for gay, lesbian and transgender individuals. Earlier this year Ithaca College's Spectrum Club hosted an LGBTQ-inclusive sex education workshop with a Planned Parenthood official where students learned about "hormone therapy, STI testing, AIDS/HIV protection and prevention, and birth control services," according to The Ithacan.
Around the same time, Georgia Tech offered students a "Queer Women's Sex" event. That event appeared to exclude straight "cisgender" women from attending.
"For LGBTQ youth to experience comparable health benefits to their non-LGBTQ peers, sex education programs must be LGBTQ-inclusive," said a report by the Human Rights Campaign.
"Inclusive programs are those that help youth understand gender identity and sexual orientation with age-appropriate and medically accurate information; incorporate positive examples of LGBTQ individuals, romantic relationships and families; emphasize the need for protection during sex for people of all identities; and dispel common myths and stereotypes about behavior and identity."
The report also said LGBTQ sex education should include the use of gender-neutral pronouns and "depict LGBTQ relationships in a postive light with stories and role plays."
MORE: Public university's 'Queer Women's Sex' event excluded 'straight cisgender' students
MORE: College students can earn credit for attending 'Queer Sex Ed Workshop'
IMAGE: jelisua88 / Shutterstock.com
Like The College Fix on Facebook / Follow us on Twitter