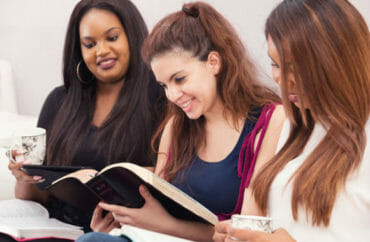 UPDATED
Law firm demands repayment of reservation fees
What a difference a lawsuit makes!
Less than two days after the Becket religious-liberty law firm sued Wayne State University on behalf of the school's InterVarsity chapter, the Michigan public university agreed to reinstate the evangelical Christian student group.
Last fall the university demanded the club revise its constitution to allow non-Christians to serve in leadership roles, citing the university's nondiscrimination policy.
A Wayne State spokesperson told conservative Catholic website Church Militant that the administration had recertified InterVarsity after reviewing the situation and talking to the group:
The InterVarsity student group is committed to welcoming and including all students, and the university will not intervene in the group's leadership selection.
This is a stark about-face for the university, which earlier told Campus Reform that Wayne State's nondiscrimination policy – applied to InterVarsity but apparently no other student group – "is consistent with the United States Constitution" and InterVarsity agreed to follow it when it applied for recognition.
The statement does not acknowledge that Wayne State's lawyers threatened to take "aggressive measures" against the club after its national organization protested the selective enforcement of the policy, which does not on its face apply to student organizations.
MORE: Wayne State sued for requiring Christian club to accept non-Christian leaders
Wayne State University Backs Off Persecution of Christian Group https://t.co/DgInWXeiCC via @Church_Militant pic.twitter.com/e5pCmBYzbm

— Church Militant (@Church_Militant) March 9, 2018
Becket has not concluded that Wayne State's InterVarsity chapter is out of the woods yet.
In a statement Thursday, the law firm said the university has "at least temporarily" allowed the Christian club back on campus with the same privileges it previously enjoyed, though it is "unclear whether the school's change is permanent."
"We hope the school will make this change permanent, so no other students have to go through what we've been through over the last six months," said Cristina Garza, former president and current chapter member.
A spokesperson for Wayne State told The College Fix in an email Monday that the reinstatement of the club was "permanent" and not "provisional" as Becket had suggested.
"[W]e did not require InterVarsity to change its constitution" as a requirement for reinstatement, the spokesperson added, citing Becket's ongoing litigation to decline to answer other Fix questions about how and why the university changed its position.
Becket Senior Counsel Lori Windham said this "last-minute change of heart" was not enough to spare Wayne State of consequences for its discrimination, demanding the return of "thousands of dollars" it charged the chapter after decertifying it. InterVarsity has spent more than $2,700 to reserve campus space it previously received for free, according to the suit.
Asked by The Fix for its next move, such as pursuing a settlement that includes legal fees, Windham said in a written statement:
It's too soon to say what the next step will be, but we want to ensure that this victory will be permanent. InterVarsity has been part of the Wayne State community for 75 years and they should be there for 75 more.
Read the Church Militant post and new Becket statement.
UPDATE: Wayne State's administration told The Fix Monday that InterVarsity's reinstatement was "permanent" and the club was not required to revise its constitution. The post has been amended accordingly.
MORE: Public university sued for arbitrary 'tier' system that punishes conservatives
IMAGE: Dream Perfection/Shutterstock
Like The College Fix on Facebook / Follow us on Twitter