You must agree to our laundry list of possible harassment infractions
Iowa State University is about to get an expensive lesson in denying students their First Amendment rights – unless it's smart enough to settle.
The Alliance Defending Freedom sued the public university Monday in federal court on behalf of student Robert Dunn, whose graduation may be put on hold if he refuses to consent to the school's broadly defined harassment policies:
Iowa State University ("ISU") punishes student speech that ISU expressly acknowledges is protected by the First Amendment.

ISU's "harassment" policies prohibit students from even saying words that "annoy" one another, and admit they "may cover those activities which . . . [do not] meet the legal definition of harassment."

MORE: ISU defends microaggressions lesson in software class

Indeed, ISU even claims that "[e]ngaging in First Amendment protected speech" may nevertheless be punished as harassment "depending on the circumstances."

These ISU policies operate as an unconstitutional speech code that chills protected student speech by prescribing punishment of students on the subjective reactions of listeners, including whether fellow students and ISU administrators believe a student's speech is "necessary" or "a legitimate topic."
#BREAKING: Iowa State requiring students to give up free speech to graduate, ADF files suit https://t.co/CANqNvJRmy pic.twitter.com/Pafygxh0yX

— AllianceDefends (@AllianceDefends) October 17, 2016
An alliance release said Dunn, a Christian and founder of the school's Young Americans for Freedom chapter, received an email requiring him to go through a new online training program on ISU's nondiscrimination policies and procedures:
The 118-slide course provides no expressed acknowledgement of any free speech rights of students or their interplay with the university's "harassment" policies, which it nonetheless requires each student to certify that he has "read, understood, and will comply with." The training concludes with a mandate to certify compliance with the university's speech policies.
Dunn said he was told by an Office of Equal Opportunity employee that if he didn't agree to the terms of the training, his graduation would be hit with a "hold" and his name would be placed on a "review" list for the dean of students.
MORE: 'Massive litigation campaign' launched against university speech codes
The alliance said it's been on ISU's case for three years about its unconstitutional policies:
The university had responded in 2014 that it would reviewing the policies over a one-year period. The recent revisions, however, failed to address the obvious constitutional defects.
The suit names a broad range of officials as defendants:
President Steven Leath

Senior Vice President for Student Affairs Martino Harmon, whose disciplinary judgments are subject only to Leath or the board of regent)

Interim Dean of Students Keith Robinder, who can unilaterally suspend students under investigation

MORE: Judge says students can sue president for T-shirt censorship

SVP for Diversity and Inclusion Reginald Stewart, who "instructed Dunn about [ISU policies'] application to conservative speech on campus, chilling students in the exercise of their First Amendment rights"

The 45-member Student Conduct Hearing Board, who can hear even "minor violations" of code and whose appointments are "subject to approval" by Harmon
It's #IowaState's shining moment! Tonight we officially launched Forever True, For Iowa State, a campaign to raise $1.1 billion pic.twitter.com/PgPfIrsTw6

— Steven Leath (@IASTATE_Pres) October 1, 2016
Students can be punished for harassment at the discretion of administrators under a laundry list of subjective factors, including their "tone of voice, gestures and behavior," whether their speech was "necessary to the discussion of the subject matter" and whether their speech is "recognized by peers as a legitimate topic," according to the suit.
MORE: Iowa State deletes 'Three Amigos'-inspired tweet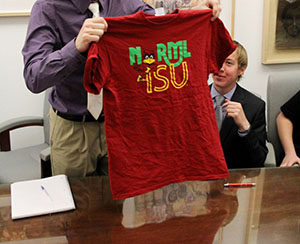 College Fix readers may recall that two years ago, ISU was sued in federal court in another speech-related case: censoring presumably left-leaning speech by the campus chapter of the National Organization for the Reform of Marijuana Laws, which wanted to write "NORML ISU" on a t-shirt with a marijuana leaf.
Not only did the court rule that President Leath could be personally sued, but ISU was eventually hit with a permanent injunction against selectively enforcing its trademark policy.
MORE: Judge orders Iowa State to stop suppressing pro-weed campus activists
Like The College Fix on Facebook / Follow us on Twitter
IMAGE: Ljupco Smokovski/Shutterstock