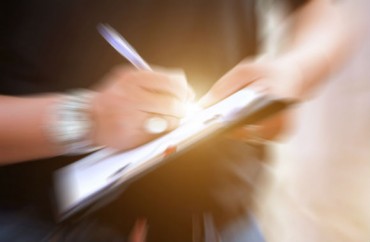 Restore public trust in journalism by (again) separating fact from opinion
One of the (rightfully) overlooked effects of the Sept. 11 terrorist attacks was the flowering of blogging.
It reoriented the largely tech-oriented pastime – whose non-tech debates were typical millennial fare (stem-cell research, Pentagon reform) – toward advocacy around the U.S. response to al-Qaeda.
I was a young participant in blogging in that early flowering, and many of the bloggers I followed advocated for a boot-in-your-ass response to "Islamofascism."
One of the other popular causes in Blogging 2.0 was to attack the edifice of mainstream establishment media, which created a fake consensus and cited "objectivity" as a talisman to hide its elitist bias. Some bloggers argued it would be better if journalists simply acknowledged their bias, so we could factor that into their coverage.
Eighteen years later (and 14 years into my journalism career), I'm not sure it has worked the way we thought it would.
The sprawling news ecosystem seems less interested in defending objectivity and more interested in attacking "false equivalence," which is basically a euphemism for "letting the side we dislike provide its viewpoint." Fact-checking has gone far afield of "facts" and delved into amorphous interpretations and plain absurdity.
That's why I was pleasantly surprised to see an old-school journalist make a $25 million endowed gift to the University of North Carolina's journalism school this month.
A gift of $25 million from alumnus Walter Hussman '68, his wife Ben and their family reinforces our core values at a critical moment for the industry. We are now the Hussman School of Journalism and Media. https://t.co/p4gDG7KnIG pic.twitter.com/xKGcMIZG34

— UNC Hussman School of Journalism and Media (@UNCHussman) September 10, 2019
Alumnus Walter Hussman Jr., publisher of the Arkansas Democrat Gazette and president of multi-state media company WEHCO, is not only putting his family name on the school. As a condition of the gift, the order of the school's name has been inverted, putting "Journalism" (a skilled craft) ahead of "Media" (which is not synonymous with news).
The "core values" printed in WEHCO's 10 newspapers will also be "etched in granite" in front of the journalism school's building, according to The News & Observer.
Those values are refreshingly retro in an age that believes "truth" is not only easy to find, but cannot be disputed with facts:
Impartiality means reporting, editing, and delivering the news honestly, fairly, objectively, and without personal opinion or bias.

Credibility is the greatest asset of any news medium, and impartiality is the greatest source of credibility.

To provide the most complete report, a news organization must not just cover the news, but uncover it. It must follow the story wherever it leads, regardless of any preconceived ideas on what might be most newsworthy.

The pursuit of truth is a noble goal of journalism. But the truth is not always apparent or known immediately. Journalists' role is therefore not to determine what they believe at that time to be the truth and reveal only that to their readers, but rather to report as completely and impartially as possible all verifiable facts so that readers can, based on their own knowledge and experience, determine what they believe to be the truth.
Hussman told The Daily Tar Heel that he wants the public to delineate between "journalism" and "media" because "most people think of social media" these days when the latter term is used. And nobody should believe that Facebook is a trusted source of news (or fact-checking).
The dean of the J-school, Susan King, said Hussman's gift will be used for more than teaching journalism students to separate news from opinion. It will also help the J-school improve its financial independence from UNC and the political control of the state – "increasing faculty salaries, recruiting and opportunities for students."
Hussman described his motivation in light of his family's 110-year journalism tradition in a Wall Street Journal op-ed Tuesday.
Neutral reporting on the news pages, opinion reserved for the editorial pages. This once was the credo of the newspaper business but it is now being abandoned at a high cost in reader trust. https://t.co/tSTIX0ToWE

— Brit Hume (@brithume) September 10, 2019
Not only are "midsize metropolitan dailies" shells of their former selves in a brutal economic environment for journalism, but Americans largely don't believe that news organizations are fair and objective, he wrote.
Hussman was driven to write up and incorporate the "core values" statement two years ago, when he heard a "prominent journalist" dismiss objectivity as a core journalism value. "That's not what I learned in journalism school in the 1960s."
He makes an observation I've made myself: 21st century media look a lot more like 19th century media than the prior century's version. They chronically blur the line between news and opinion, particularly on cable news:
If community journalism in America doesn't survive its economic challenges and we end up with three national newspapers, it is important that the public's perception of those newspapers not mirror their perception of the cable networks.
Hussman hopes his donation and the message behind it will convince other J-schools, as well as news organizations, to adopt similar core values. It's the first step to re-earning the trust of the audience.
MORE: Journalist trashes her J-school because it told her not to show bias
IMAGE: nipon thunggatgaw/Shutterstock
Like The College Fix on Facebook / Follow us on Twitter