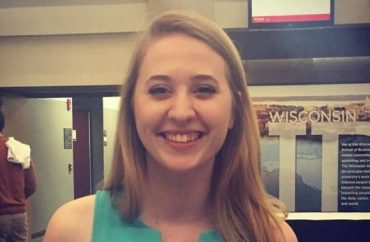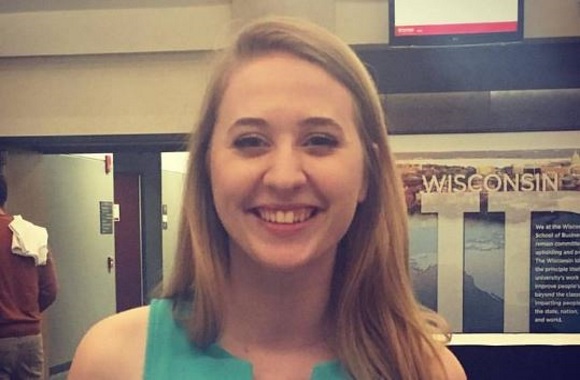 Student also had her LinkedIn profile posted, called racist
Jessica Murphy, a 20-year-old student at the University of Wisconsin Green Bay, recently published a column that represented the culmination of months' worth of work and research, including a dozen public records act requests to the University of Wisconsin system.
Her target? Biased classes offered through the public university system that indoctrinate rather than teach, and "degrade capitalism, praise Marxism and encourage a 'social justice warrior' ideology," she wrote in her piece, headlined "Top Five Wasteful Classes in the UW System."
Published Monday by the MacIver Institute, a Wisconsin-based think tank that promotes free markets, individual freedom, personal responsibility and limited government, the piece quickly spread through Wisconsinite social media circles.
But it was after Murphy's piece, which she wrote as an intern for the institute, landed before a professor whose class was targeted that sparks really started to fly.
On Tuesday, Associate Professor of Philosophy Sarah LaChance Adams posted the article on her Facebook page with the comment: "Check it out comrades." LaChance Adams' course, "Teaching for Social Justice," earned the No. 5 spot on the list.
Murphy, who obtained a copy of the syllabus through one of her public records act requests, noted in her piece that the course has students "reflect on their privilege and marginalization. Students also review how meritocracy – and the American Dream – is a myth. Why work hard to achieve your dreams if you can blame sex/race/class/sexuality for your lack of success?"
Murphy added:
A portion of the participation grade is based on whether or not students were inclusive and supported other students expressing their thoughts. This is college, not charm school – and these students (and taxpayers!) are essentially paying hundreds of dollars for a course on how to be nice to people. …

One of the required readings, Chad Kautzer's "Radical Philosophy: An Introduction," reviews Marxism, feminism, queer theory, and more. Students are asked to call upon this book for the group presentation, which makes up 15 percent of the total grade.

The course instructor, professor Sarah LaChance Adams, is UW-Superior's Women's and Gender Issues Coordinator. She specializes in feminist philosophy and her current research project is titled "An Epistemology of Erotic Errors."
The other four classes on the list are: the History and Politics of Hip Hop at UW-Platteville; Exploring White Privilege at UW-La Crosse; Culture of Third Wave Feminism at UW-Eau Claire; and Class, State, and Ideology: An Introduction to Social Science in the Marxist Tradition at UW-Madison.
'Visceral' reaction on Facebook
Facebook friends of LaChance Adams did not respond kindly to the article. In the comments, many accused it of being poorly written. Others found it "disturbing," suggesting LaChance Adams had been targeted and may need to watch her back. Others accused Murphy of being brainwashed by capitalism.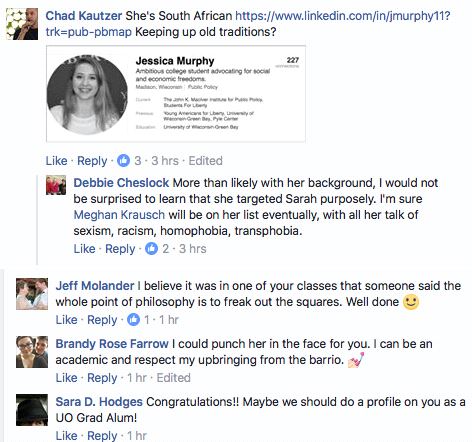 Some wrote they thought the five classes sounded super interesting. Several poked fun of the entire situation, such as teasing LaChance Adams for only coming in at the No. 5 spot. Said another satirically: "I'm so disappointed the health class I was required to take as a freshman didn't even get an honorable mention. I literally paid hundreds of dollars to reiterate what I learned for free in my high school health class. Smoking is bad, wear your seatbelt, use a condom."
But some comments got, as Murphy calls it, "absurd." Someone posted her LinkedIn profile to the thread with the comment: "She's South African. Keeping up old traditions?"
Added another: "More than likely with her background, I would not be surprised to learn that she targeted Sarah purposely. I'm sure [Professor] Meghan Krausch will be on her list eventually, with all her talk of sexism, racism, homophobia, transphobia."
A third person chimed in: "I could punch her in the face for you. I can be an academic and respect my upbringing from the barrio."
Professor LaChance Adams liked all the comments.
"I am not concerned for my life, but why would you resort to violence when I am just trying to be open with my ideas," Murphy told The College Fix in a telephone interview Wednesday. "A lot of these comments are very visceral responses, but that is very typical of the left."
'Why attack me?'
Murphy said she came across the comments after searching the Internet, curious of the reaction her column was getting.
"The personal attacks are unfounded in my opinion," she said. "I am a 20-year-old college intern, why attack me? Have an honest discussion about the article's content."
She said someone posting her LinkedIn profile felt a bit "stalkerish," and the comments suggesting she is racist for being from South Africa are off base. She moved to America when she was a toddler.
Suggesting she might go after a professor because they espouse "sexism, racism, homophobia, transphobia" is mistaken, Murphy said, describing herself as socially liberal.
She added she supports their right to say and do whatever they wish — as an active member of student liberty groups she has even lobbied for free speech rights — but added it would be nice if the actual findings in the article were discussed as opposed to personal attacks against its author.
'This is a public interest story'
The project aimed to expose one-sided, biased courses, Murphy said.
Starting in February, she and fellow interns scoured class catalogs from all 26 campuses in the system to narrow down their list. Then they used public records act requests to obtain the syllabuses of 12 classes that caught their eye, finally settling on the top five.
The piece was written in a "BuzzFeed" tone, complete with memes, to attract a wide and unique audience and "engage new readers," she said.
She said she acknowledges feedback on the article includes the argument that these five classes offer something of value to students and society.
"That's fine, differences of opinion," Murphy said. "This piece is to inform the taxpayers of where their money is going. These classes present a one-sided view."
Murphy called comments that the story shows she is "close-minded" ridiculous.
"This is a public interest story," she said.
Her piece ends by pointing out that "offering courses that ignore the prosperity created by capitalism and cover absurd topics such as 'lumbersexuality' is not only a disservice to the students paying thousands of dollars to attend a university, but is also a slap in the face to the hardworking Wisconsin taxpayers whose money goes to waste on courses that do not have a direct, positive impact on society."
Like The College Fix on Facebook / Follow us on Twitter
Like The College Fix on Facebook / Follow us on Twitter