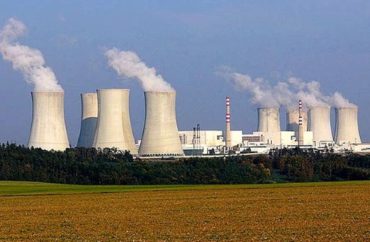 University and utility company say the reactors could help reduce carbon footprint
Purdue University officials have begun to explore plans to build nuclear reactors on campus to establish a clean and sustainable energy source that would help the campus move toward its goal of carbon neutrality.
The plan would include the development of Small Modular Reactors across Purdue's campus that would offer long-term functionality for energy needs.
Purdue told The College Fix that the proposal fits into its goals of "reducing greenhouse gas emissions."
"On solar and wind, Purdue is investigating and undertaking multiple pathways to reducing greenhouse gas emissions," spokesperson Tim Doty told The Fix. He referenced a 2020 planning document that described the Big Ten university's plans for renewable energy.
"As outlined in the 2020 Physical Facilities Sustainability Master Plan, the University is pursuing 500 kW of renewable energy and plans to cap total energy consumption at FY11 levels despite an increase in total campus gross square feet," Doty stated.
He told The Fix "an SMR could serve as the baseload energy source and can be combined together with other renewables."
He stated that since the research into the plan had only just been announced, he cannot answer any specific questions regarding the proposal. The Fix asked about potential costs and safety concerns.
The feasibility of the plan is being jointly explored with Duke Energy.
The Fix reached out via email to Angeline Protogere, a spokesperson for Duke Energy, and asked about the motives behind the partnership and any safety concerns about the nuclear reactors.
"Supporting technology development is critical for our nation and could play an important role in helping us achieve our goals for attaining net-zero carbon emissions by 2050," Protogere told The Fix on May 9. "[P]articularly as we look at how advanced nuclear can complement renewable energy like wind and solar."
"To reach net-zero goals, we need to explore all technology and policy tools at our disposal," Protogere said.
She added there are no significant safety concerns with this type of reactor.
"Advanced nuclear includes a wide range of small modular light-water reactors and advanced non-light-water reactor designs," the utility company spokesperson said. "These reactors have additional safety enhancements, including advanced fuel designs, passive safety systems and the ability to operate without safety-related backup electrical systems."
"Most advanced nuclear reactors can shut down automatically and self-cool indefinitely without operator assistance due to the passive safety systems," she said.
She also noted that it is uncertain what a plan of this nature could cost.
"The collaborative group will explore questions like that. Because no SMR technology has yet been deployed in the U.S., the exact costs are not known," Protogere said.
She expressed her interest in employing a combination of nuclear energy with solar and wind.
"We need resources that can be dispatched around-the-clock, on-demand as well as renewable energy sources that are dependent on the weather," she stated. "We're interested in how technology like this might complement renewable energy sources such as solar and wind."
Student groups want Purdue to move away from fossil fuels
The plan comes amid a push for universities, including Purdue, to develop plans to move away from oil, gas and coal as energy sources.
West Lafayette Students for Climate Action has advocated for Purdue to adopt carbon-free principles and recently released a climate action plan which encouraged the university to terminate its use of coal and employ alternative energy sources such as solar and wind.
Another group, the Purdue Student Sustainability Council, has promoted environmental issues and climate strikes on campus and in coordination with the WLSCA, created a petition to make Purdue carbon neutral by the year 2030.
The College Fix reached out to both groups to ask if they thought that the construction of nuclear reactors on campus would be an effective way to cut emissions and achieve the goal of carbon neutrality.
Neither group responded to the request for comment.
MORE: Purdue refuses to cancel climate change contrarian
IMAGE: Public domain
Like The College Fix on Facebook / Follow us on Twitter