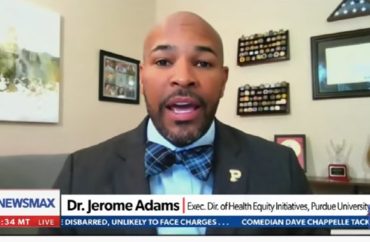 Averaged almost 30 tweets per day while carrying out duties
Jerome Adams parlayed his position as Indiana state health commissioner under Mike Pence into a role as the surgeon general of the United States.
Now, he's in a well-paid job thanks to Purdue University, led by former Indiana governor Mitch Daniels.
The Big Ten university compensates him a $450,000 base annual salary as the "Executive Director" for "Health Equity Initiatives," according to a contract obtained by The College Fix through a public records request.
He is also a "Presidential Fellow, and Professor of Practice in the Departments of Pharmacy Practice and Public Health."
The benefits package easily pushes his compensation above $500K with the value of health, life and disability insurance along with an executive assistant and retirement plan contributions. He can receive $40,000 for being a "Distinguished Professor of Practice," according to the contract. He achieved that honor a mere two months after he started at Purdue.
The Fix asked for metrics and performance reviews too, but the university did not provide those.
Adams did not respond to multiple requests for comment in the past two weeks from The Fix about how he spends his days and fulfills his job duties.
Those duties include "working with the Office of Engagement, the Office of the Vice Provost for Diversity and Inclusion, and other campus units in support of health equity initiatives" and "generating national visibility for Purdue health equity work."
His responsibilities also entail "providing general campus oversight and guidance to health equity projects internally and externally" and mentoring faculty working in public health and "health equity."
Adams does spend a lot of time tweeting for someone paid over a half million dollars per year. For example, from May 1 to May 7, he sent 197 tweets, a pace of almost 30 per day. On April 2, he sent over 30 tweets.
His May activity included a Twitter rant and Newsmax appearance about a potential reversal of Roe v. Wade, a surprising stance in support of abortion from someone picked to lead health efforts by two Republican governors, a Republican president, and now hired at a university led by a former Republican governor.
He went on the interview wearing a Purdue pin and noted his experience as a physician to back up his support for killing babies in utero.
"Regardless of how one feels about abortion, there are real concerns about legislators saying what you and your doctor should and shouldn't be talking about in the exam room, and there are valid cases where women need to have surgery to save their lives."https://t.co/omQABqmfre

— Jerome Adams (@JeromeAdamsMD) May 5, 2022
Adams, who started the position in October 2021, does not write much or publish research. A paper he wrote with two other people has only been cited once, despite being published in January 2022.
A Purdue spokesperson did not answer questions about goals for 2022 for Adams and specific individuals he had mentored.
Tim Doty told The College Fix that the university "held a first ever campus wide convening centered on Health Equity earlier this year, which was attended by over 70 campus partners."
"It was at this meeting that the 3 thematic areas were identified," Doty said. Those three areas are "mental health and substance misuse, food for health (e.g., promoting nutrition and addressing obesity), and prevention and treatment of infectious diseases such as covid and HIV."
He continued:
Dr. Adams regularly speaks with and mentors students, faculty, and staff from Purdue and other institutions and regularly meets with campus leaders working on health equity, including the Deans of the College of Health and Human Sciences, Pharmacy, Veterinary Sciences, and Agriculture, as he works to develop a campus wide strategy focused on the aforementioned thematic areas. He has supervised the awarding of $50,000 in "micro grants" to community-based organizations in Indiana working in the health equity space. He also advises centers and groups from across campus (eg RCHE, CHEQI, I-HOPE) as they engage in statewide health equity work.
He has fulfilled his lecture goal, according to a list of courses provided by Purdue to The Fix.
He has spoken to classes that include "Principles of Public Health Science" and "Population Health" and several conferences and seminars.
Neither the university's Center for Health Equity nor Professor Alan Zillich, the head of the pharmacy department, responded to two emailed requests in the past two weeks for comment on Adams' contributions since he joined Purdue.
MORE: Doctor founds nonprofit to combat 'woke ideology' in med schools
IMAGE: Newsmax/YouTube
Like The College Fix on Facebook / Follow us on Twitter