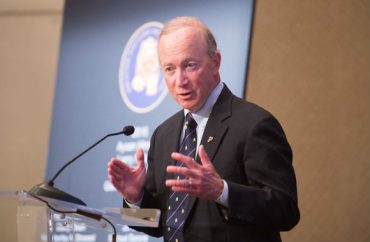 COVID-19 poses 'close to zero lethal threat' to vast majority of campus community
Purdue University is going to make decisions based on data, not hysteria.
President Mitch Daniels, formerly the Republican governor of Indiana, laid out his plan to reopen the public campus this fall while taking care to minimize exposure of high-risk people to the novel coronavirus.
In a message to the community Tuesday, Daniels (above) showed the same analytical thinking that made him so successful as director of the White House Office of Management and Budget in the George W. Bush administration:
Purdue University, for its part, intends to accept students on campus in typical numbers this fall, sober about the certain problems that the COVID-19 virus represents, but determined not to surrender helplessly to those difficulties but to tackle and manage them aggressively and creatively.
Four in five members of the community are at low risk of COVID-19 complications because they are 35 or under: "All data to date tell us that the COVID-19 virus, while it transmits rapidly in this age group, poses close to zero lethal threat to them."
Since the rest of the community is older and has comorbidities such as diabetes, asthma and hypertension, Purdue is devising policies and practices to "keep these groups separate, or minimize contact between them," Daniels said.
He offered "preliminary" examples to be "replaced by better ideas as we identify and validate them," including "spreading out classes across days and times to reduce their size … virtualizing laboratory work" and offering or requiring remote work options for those more vulnerable.
Noting that Purdue has a "BSL-2 level laboratory" that can get "fast results" from COVID-19 tests, the president said the university is considering "pre-testing of students and staff" for infection and post-infection antibodies before they arrive in August. It's setting aside a space for quarantines of those who test positive, Daniels said (those who test negative for both infection and antibodies will be "checked regularly for symptoms").
Campus life will still not return to normal even this fall, however: Daniels said Purdue will implement an "indefinite prohibition on gatherings above a specified size" and "required use of face coverings and other protective equipment," without specifying who will be subject to required use.
Indulging in the apocalyptic hysteria adopted across academia in order to sell his plan, Daniels claimed that closing down America "was a correct and necessary step."
But unlike many in his audience, he recognizes that lockdowns have "come at extraordinary costs, as much human as economic," and they have actually prolonged the threat:
The COVID-19 virus will remain a fact of life this autumn. Natural immunity, which has been slowed by the shutdown, will not yet have fully developed. No vaccine can be counted on until 2021 at the soonest. It is unclear what course other schools will choose, but Purdue will employ every measure we can adopt or devise to manage this challenge with maximum safety for every member of the Boilermaker family, while proceeding with the noble and essential mission for which our institution stands.
MORE: How Purdue froze its tuition under $10k for seven straight years
IMAGE: James O'Gara Photography
Like The College Fix on Facebook / Follow us on Twitter