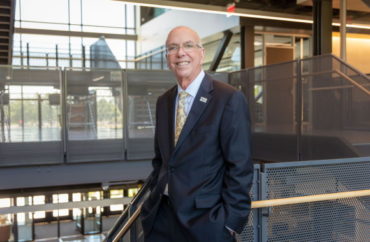 Thomas Keon, chancellor of Purdue University Northwest, was once honored for his dedication to diversity — but now faces repeated demands for his removal over some off-color comments he made during a December commencement speech.
Keon apologized for the remarks. But so far, he isn't budging from his post despite a petition and cacophony of resignation demands from those inside and outside his campus community.
Purdue University Northwest's media relations department and president's office did not respond to a request from The College Fix seeking comment on the controversy.
In September 2022, Keon spearheaded Purdue's new PRIDE Team Initiative: Respecting Inclusion, Diversity, and Equity. The stated mission is to "promote an open, respectful and welcoming climate and culture that facilitates learning, discovery, service, engagement and professional development."
In 2016, Keon received the Giving Back Award for his "commitment to diversity and inclusion."
Yet his DEI bonafides were not enough to stem the calls for his cancelation in recent months.
At a Dec. 10 commencement ceremony, Keon mocked Asians with an offensive language impersonation.
Keynote speaker Jim Dedelow talked about a made-up language he created to entertain his granddaughter. When Keon returned to the podium, in off-the-cuff remarks, he babbled in his own made-up language. He said, "That's sort of my Asian version of this" before returning to his script.
On Dec. 14, four days after the clip went viral, Keon formally apologized.
"We are all human," Keon wrote in his statement. "I made a mistake, and I assure you I did not intend to be hurtful and my comments do not reflect my personal or our institutional values."
A few days later, the Purdue University Northwest Board of Trustees accepted his apology but gave him a formal reprimand.
Many were not satisfied.
A student started a Change.org petition that as of March 24 has over 9,400 signatures.
"We need to fight back. We need to resist. We need to resign Chancellor Keon for the sake of our worldly community," the petition states.
Beyond students, the National Urban League President Marc Morial and Urban League of Northwest Indiana President Vanessa Allen McCloud called on Keon to resign from their affiliate board of trustees.
The league is a civil rights organization that helps underprivileged urban areas.
"As you know, the Urban League of Northwest Indiana is responsible for supporting community activities and actions that promote an appreciation for diversity, equity, and inclusion," the two wrote in a letter to Keon. "This includes weighing in and responding to incidents of racism, bias, and a host of other 'isms' that create barriers, misperceptions and hurt."
The league has since removed Keon from its board.
On Feb. 20, Purdue University Northwest's faculty senate also called for Keon's resignation.
The resolution stated his "performance humiliated and dehumanized Asian Americans and Asians, and tarnished Purdue's global reputation."
"If that resignation is not immediately forthcoming," the resolution added, "the Purdue Faculty Senate asks the Board of Trustees to remove Keon from his position as Chancellor of PNW."
They argue this will restore the college's reputation and "demonstrate Purdue's support for diversity, equity, and inclusion."
Recently joining in the chorus are professors from a nearby campus.
"Faculty from Purdue University's flagship campus in West Lafayette have joined in calling for Thomas Keon, chancellor of Purdue University Northwest, to resign," the Northwest Indiana Times reported March 9.
"Purdue University officials have not commented on the matter since the board issued the reprimand," the newspaper added. "At the time, university officials said they do not intend to comment further on the matter."
MORE: Purdue 'diversity' award winner apologizes for joke mocking Asians
Like The College Fix on Facebook / Follow us on Twitter