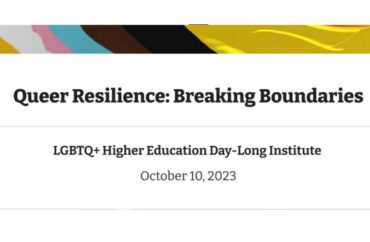 Universities from North Dakota, South Dakota and Minnesota are invited to attend
"Queer resilience" and the "integration" of LGBTQ topics into higher education will be the focus of a conference today hosted by the University of North Dakota.
The campus Pride Center has teamed up with other universities in the state as well as South Dakota and Minnesota for the "Queer Resilience: Breaking Boundaries" conference.
It is described as an "interdisciplinary, multi-state, LGBTQ+-focused conference which will focus on trends and topics related to LGBTQ+ students, faculty and staff in higher education."
Universities from the three states are invited to attend and learn how to "foster discussion on the integration of LGBTQ+ support systems and curriculum within higher education institutions," according to the event's description.
The conference will be broken up into a series of presentations and speeches from 18 different panelists from an array of universities, including UND, North Dakota State University and Valley City State University, all of which have been reached out to in request of event details, including what topics will be covered and how many attendees they intend to bring.
None of the listed participants responded to multiple emails from The College Fix since Oct. 5.
The only details regarding what will be taught are the following generic topics: "LGBTQ+ student academic performance and mental health, curriculum-based initiatives and campus allyship."
Jeff Maliskey, director of the UND Pride Center, hopes the conference will allow other universities to form LGBTQ centers and support systems.
MORE: Abortion activist eats baby model at New York community college
He said in the news release he wants "schools that don't have an LGBTQ+ resource centers or designated support for LGBTQ+ students" to "be able to take the skills and knowledge presented at the conference and apply them on their campuses in ways that support and show commitment to those students."
His doctoral thesis, which he wrote at the public university, studied the "History of Queer resistance" at UND. The paper "uses queer theory as a theoretical framework to guide and understanding of LGBTQ+ student experiences and the oppression they faced that lead to queer resistance."
The Fix also reached out to Maliskey and the UND Pride Center for more information on the conference.
Students at the host school, however, are skeptical of the event's intentions.
Spencer Trocke, a freshman at UND, told The Fix via social media messaging that the upcoming conference "concerns" him.
"I'm afraid of how vulnerable people's minds are these days. And how people will believe everything they hear," Trocke said.
He also disagreed with the idea that the integration of LGBTQ-related topics into curriculum is a necessary step, saying, "if someone really wants to learn more about it, they are perfectly capable of doing their own research."
Similarly, UND student Dakota Krieser told The Fix via social media messaging she was surprised the conference was being held. "They do try to integrate the whole 'understanding and accepting their community' thing all of the time."
"I honestly don't understand the need for LGBTQ curriculum. I feel like it's as simple as be a nice person and that should be enough," Krieser added. "We aren't holding a 'how to understand a woman's brain' seminar or 'why are white males too basic to get what they deserve' seminar?"
'Queer Resilience: Breaking Boundaries' is one of many activities aimed at celebrating LGBTQ History Month.
The UND Pride Center is also slated to host events like an LGBTQ+ Alumni Social, a Coming Out Week yoga session, and an LGBTQ+ Center Awareness Day.
MORE: Professor matches LGBT adults with teens for online 'mentoring'
IMAGE: University of North Dakota
Like The College Fix on Facebook / Follow us on Twitter