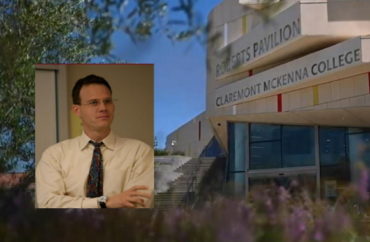 Claremont McKenna College's Christopher Nadon refuses to back down from a fight over pedagogical use of n-word
A Claremont McKenna College professor recently filed an internal grievance against his employers, alleging they violated his academic freedom by punishing him for saying the n-word while teaching.
Professor Christopher Nadon lodged the complaint in mid-July, and told The College Fix last week he has yet to hear back from administration regarding his grievance.
Nadon became the subject of campus conflict in October 2021, after he said during his "Introduction to Political Philosophy" class the full n-word while teaching about censorship using "Huckleberry Finn" as an example.
A student reported him to administrators, who then sought to discuss with Nadon his choice to use the full word rather than its euphemism.
Sometime later, Nadon read aloud in a different class from the "Narrative of the Life of Frederick Douglass," noting "its most powerful passage contains the n-word."
It was all too much for campus leadership, according to Nadon, who has told his story in both The Wall Street Journal and Unherd in recent weeks.
Nadon wrote in the Journal that he was banned from teaching required courses due to "the discussion of 'Huck Finn,' reading the forbidden word aloud from the autobiographical 'Narrative of the Life of Frederick Douglass,' and alleged complaints for making arguments on all sides of contentious issues such as the equality of the sexes."
In his Unherd piece, he said he is not willing to cave: "As teachers, we need to take back our classrooms. We need to fight on whatever hill we find ourselves."
He added that two weeks after filing his grievance, he was given the green light to teach "Introduction to Political Philosophy" again this fall. Nadon said the decision was also made after it became clear his case "would become public."
Claremont McKenna College responded to a request from The College Fix seeking comment by providing a copy of the college president's public statements on the matter.
Its president, Hiram Chodosh, has denied Nadon's version, arguing in a letter to the editor of The Wall Street Journal that Nadon had very low enrollment in his classes.
"In my nine years as president, Claremont McKenna has never held a disciplinary review, conducted an investigation or taken any adverse remedial action against any faculty member, including Mr. Nadon, for classroom speech. Playing the role of fragile victim, Mr. Nadon undermines the values he purports to uphold with false claims," Chodosh wrote.
But Nadon is not the only scholar at Claremont McKenna under fire for using the whole n-word.
The Foundation for Individual Rights and Expression reports that officials also warned one faculty member against quoting a Civil Rights Movement-era poem that included the n-word, and canceled the teaching contract of a third scholar who said the n-word while reading from "The Color Purple."
And a student reportedly objected when a literature professor played a recording of Robert Lowell's "For the Union Dead" containing the slur. This time, the Associate Vice President for Diversity and Inclusion, Nyree Gray, allegedly told the professor it was acceptable because the word was not uttered by him.
"These actions stand clearly at odds with Claremont McKenna's repeated emphasis of its support for academic freedom and free speech rights on campus," FIRE argued.
FIRE sent a letter to Dean of Faculty Heather Antecol to reiterate its stance and defend the three scholars.
"Expressly referencing racial slurs in a pedagogically relevant context is not uncommon—and is properly protected under the basic tenets of academic freedom," the letter stated. "There is a clear distinction between using a racial slur as a slur and employing the slur in teaching about its ramifications or history."
Claremont McKenna is the top-ranked school on FIRE's 2021 College Free Speech Rankings. While FIRE maintains Claremont's "green light" rating, the group warned that the school's robust academic freedom policies are "merely words on paper if the college does not put them into practice."
In his email to The College Fix, Nadon said he has yet to receive a response to the grievance he filed, though the deadline has passed.
"In the meantime, the President of the College, who plays a considerable role in the grievance procedure (Section 4.4 of the CMC Faculty Handbook), has declared via the national media that I am a liar," he wrote.
But Nadon said the "low enrollment" numbers were not his fault. He said his elective courses were listed at times known to be bad for enrollment, and the required course with one student wasn't listed until the end of July—months after registration opened to students.
"I'm just a guy sitting in a stuffy backroom of his house with a few sheets of paper and a pen, up against an institution with an endowment of $1.2 billion dollars (market value in June of 2020), lawyers by the bushel, and the ability to comb through all my emails for the past 15 years," Nadon wrote in his Unheard piece.
Claremont McKenna's faculty handbook states academic freedom includes "the rights to engage in free inquiry and exchange of ideas, to present controversial material relevant to a course of instruction, to publish or disseminate controversial material or information, and to perform research in controversial areas."
MORE: Here's why, as a professor, I fight against critical race theory and DEI at Cornell
Like The College Fix on Facebook / Follow us on Twitter