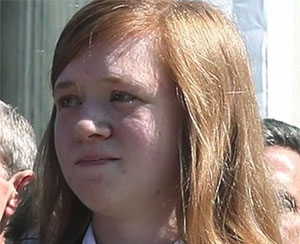 In case you missed Tuesday's ruling by the 5th U.S. Circuit Court of Appeals – which rejected Abigail Fisher's claim that the University of Texas-Austin impermissibly discriminated against her in admissions because she's white – it's worth reading the full dissent by Judge Emilio Garza, which starts on page 44.
First, a little background: Fisher went all the way to the Supreme Court, which returned a mixed ruling a year ago that told the 5th Circuit to apply "strict scrutiny" to the university's claims that its admissions policies are "narrowly tailored" to achieve diversity.
As Justice Anthony Kennedy said then in Fisher v. University of Texas:
"The University must prove that the means chosen by the University to attain diversity are narrowly tailored to that goal. On this point, the University receives no deference," Kennedy wrote. "Strict scrutiny must not be strict in theory but feeble in fact."
"No deference" basically means the government has to prove that "available, workable race-neutral alternatives do not suffice" to achieve the educational benefits of a diverse student body, as Kennedy said. The court won't take its word for granted.
Under the race-neutral program the university devised in response to a previous 5th Circuit ruling, the top 10 percent of graduates in each Texas high school are automatically admitted to UT-Austin.
The university added a race-conscious program to fill out the rest of its incoming class after the Supreme Court's 2003 Grutter ruling further complicated the rules governing admissions policies. Fisher challenged that program, as she was in the top 11 percent of her class, according to the Los Angeles Times.
In Garza's dissent Tuesday, the George H.W. Bush appointee told his two peers who voted to uphold the race-conscious program they essentially ignored the "no deference" imperative from the Supreme Court:
Although the University has articulated its diversity goal as a "critical mass," surprisingly, it has failed to define this term in any objective manner. Accordingly, it is impossible to determine whether the University's use of racial classifications in its admissions process is narrowly tailored to its stated goal—essentially, its ends remain unknown.
Garza examines the equal protection clause of the 14th Amendment, which holds that no state may "deny to any person within its jurisdiction the equal protection of the laws." That clause is the basis for several important Supreme Court precedents.
Garza quotes from Loving v. Virginia, a 1967 decision that outlawed state bans on interracial marriage:
[The] Equal Protection Clause "demands that racial classifications . . . be subjected to the most rigid scrutiny…"
This sounds like an extreme comparison – helping minority students get into college is as bad as banning black-and-white marriages? – but Garza notes that the court isn't at liberty to accept a policy simply because it's intended to "help, not to harm … Put simply, there is no special form of strict scrutiny unique to higher education admissions decisions."
Garza calls out his peers for not even attempting to define what a "critical mass" of minority students means in practice (page 52). UT-Austin doesn't have to provide a "precise numerical definition" of "critical mass," Garza said, but its attempts to explain what it's seeking to do are "subjective, circular, or tautological":
The University explains only that its "concept of critical mass is defined by reference to the educational benefits that diversity is designed to produce." And, in attempting to address when it is likely to achieve critical mass, the University explains only that it will "cease its consideration of race when it determines . . . that the educational benefits of diversity can be achieved at UT through a race-neutral policy . . . ." These articulations are insufficient.
UT-Austin doesn't even dispute that it admits "only a small number of minority students" under the race-conscious program, Garza said:
In 2008, the sole year at issue in this case, less than 20% of the class was evaluated under the race-conscious holistic review process. Even if we assume that all minority students who were admitted and enrolled in that year through the race-conscious holistic review process gained admission because of their race, this number is strikingly small—only 216 African-American and Hispanic students in an entering class of 6,322.
The university can't "prove the necessity of its racial classification without meaningfully explaining how a small, marginal increase in minority admissions is necessary to achieving its diversity goals," Garza said. It also hasn't examined whether the top-10 program students "exhibit sufficient diversity within diversity, whether the requisite 'change agents' are among them, and whether these admittees are able, collectively or individually, to combat pernicious stereotypes."
And that's, sadly, a very stereotypical attitude that the court majority takes, Garza said:
Regrettably, the majority firmly adopts this assumption—that minority students from majority-minority Texas high schools are inherently limited in their ability to contribute to the University's vision of a diverse student body.
Fisher said she's "committed to continuing this lawsuit even if it means we appeal to the Supreme Court once again."
Read the full decision here, and the Los Angeles Times' recap here.
Like The College Fix on Facebook / Follow us on Twitter
IMAGE: Internet screenshot