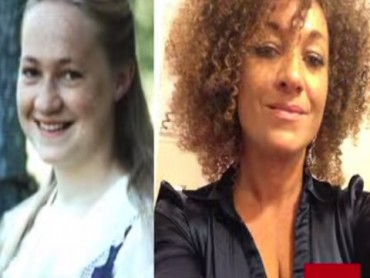 She's back. Rachel Dolezal, that is. Sort of.
The former head of Spokane, Washington's NAACP and professor of Africana Studies at Eastern Washington University claims she now relies on food stamps, and "will not apologise for how she identifies."
"Nothing about whiteness describes who I am," she says. "For as long as I can remember, I saw myself as black."
Yet, in a seeming contradiction, Dolezal says she "doesn't believe in race."
"What I believe about race is that race is not real. It's not a biological reality. It's a hierarchical system that was created to leverage power and privilege between different groups of people."
"I think some people feel that if you question the reality of race you're questioning racism, you're saying racism isn't real. Racism is real because people actually believe race is real. We'd have to really let go of the 500-year-old idea of race as a worldview in order to undo racism."

However, Ms Dolezal then did go on to mention Caitlyn Jenner, a member of the Kardashian/Jenner reality TV dynasty who transitioned to female this year.
RELATED: White woman who posed as black professor: 'I didn't mislead anybody … I'm black'
"Caitlyn Jenner has not been seen as a woman, and treated as a woman by other people, for her entire life. So what does that mean?

"…I hope we can reach some kind of term for the plurality of people and allow everybody to be exactly who they are on the spectrum of all these things. Religion, gender, race."
Hmm … is Dolezal as disbelieving of gender as she is about race?
She certainly isn't keen on the term "transracial," that's for sure: "I don't like it because I don't believe in race. To say 'transracial' further entrenches that idea."
RELATED: 'Black' Rachel Dolezal: Whites shouldn't discuss racism
RELATED: Rachel Dolezal's time as professor, student marked with bizarre, controversial claims
Like The College Fix on Facebook / Follow us on Twitter
IMAGE: YouTube screenshot