As far as Eastern Washington University is concerned, Rachel Dolezal – the controversial white woman who identifies as black – was never really a professor there, and what's more, is "no longer an employee of Eastern Washington University."
Dolezal was an "adjunct instructor hired on a quarterly basis" since 2010, but whether she'll teach this fall is uncertain, a campus spokesman recently told Breitbart.
It's the latest twist in the tale of Dolezal, a "trans-racial" former NAACP-Spokane chapter president who is biologically white but pretended to be black in what some suggest was an effort to advance her professional interests as an activist and academic.
Indeed, her time as a student and scholar has been marked with bizarre, controversial claims.
Most recently, Dolezal had worked in the African American studies department at Eastern Washington University, where she taught classes such as "African and African-American art history," "African-American culture" and "the black woman's struggle."
There, Dolezal was an active and recognized participant in campus politics. Back in February, the school newspaper The Easterner published a feature on Dolezal titled "A Life to be Heard."
Among the claims reported in the article: Dolezal was born in a Montana tepee; "Jesus Christ" is the witness on her birth certificate; her family hunted their food with bows and arrows; and she was beat with a "baboon whip" and punished by "skin color."
Dolezal was a go-to scholar for comments on issues of race. In 2014, she used the words "our history" to describe black history to the campus newspaper: "Our story should be taught year round. But until then, we need to use this month we have to its fullest potential."
And when anti-racism activist Tim Wise was set to appear at the university, Dolezal tried to stop him from speaking because, in her words, "white folks can't speak with any legitimacy to issues of racism."
During a lecture she gave on "black hair" at Eastern Washington University, she discussed "hair history and privilege" and "colorism," and argued lighter skin was preferable throughout history, and that overlapped into hair.
Of the eight hair types she presented, type one is a "straight to minimal wave … the pinnacle of good hair, and that was based on white supremacy, based on racism," Dolezal said. As the types went on, they got curvier, wavier and coiled, all the way to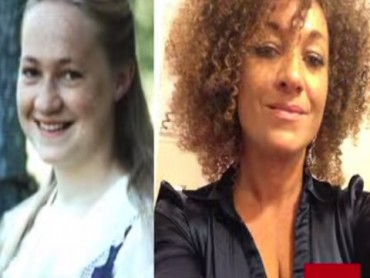 type eight, or "nappy," she said.
"White supremacy is a hierarchy on the basis of skin color, right," she said, according to a video of the lecture. "But it also takes into account other racial characteristics with things like hair texture."
And at the height of the Black Lives Matter protests, Dolezal also insisted that only black people should lead such protests, African-American leaders have attested.
However, Dolezal's time as a student may be as controversial as her time as a scholar. The Smoking Gun has reported that Dolezal reportedly sued Howard University, the historically black college she attended, for discriminating against her because she was white.
The Smoking Gun reports:
"Dolezal, then known as Rachel Moore, named the university and Professor Alfred Smith as defendants in a lawsuit filed in Washington, D.C.'s Superior Court. During the pendency of the civil case, Smith was chairman of Howard's Department of Art.

According to a Court of Appeals opinion, Dolezal's lawsuit "claimed discrimination based on race, pregnancy, family responsibilities and gender." She alleged that Smith and other school officials improperly blocked her appointment to a teaching assistant post, rejected her application for a post-graduate instructorship, and denied her scholarship aid while she was a student."
Given these developments, many have come to the conclusion that Dolezal is nothing more than an opportunist, who chooses the identity that best suits her at any given time. This has led to a tsunami of condemnation from every side of the political aisle.
Chloe Valdary stated in The Wall Street Journal that Dolezal "has gone to great lengths to convince the world that she is of African descent. She has darkened her skin tone. She has adopted various 'ethnic' hair styles, including at times curly weaves, or dreadlocks, or twists. She has claimed to fight the stereotyping of black identities—all while stereotyping black identity."
On a CNN panel, commentator Marc Lamont Hill said that pretending to be black was the "ultimate exercise in white privilege."
Like The College Fix on Facebook / Follow us on Twitter
IMAGE: YouTube screenshot