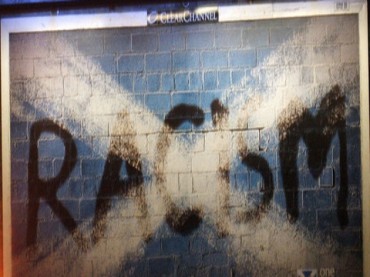 In the wake of Dylann Roof's alleged shootout in an African-American church in Charleston, many academics are weighing in on the systemic racism they say underlies everyday life for black people.
Paul Butler, a professor of criminal law and race relations at Georgetown University, told PBS Newshour that the "national conversation" that should follow the murders "should be about racism and white supremacy":
We have to disrupt this rush to a kumbaya moment that we have seen in Ferguson. So, we all people show up for the memorial service, and they chanted white — they chanted, "All lives matter." That was a corruption of "Black lives matter." It was a willful blindness to wanting to talk about racism and white supremacy.

And it's part of the problem. All lives isn't who this terrorist went after. He went after African-American lives. And we need to acknowledge that.
The reason that black people have a higher unemployment rate and more trouble getting an apartment – examples of "structural violence" – is because "Racial subordination is the premise of the American project," Butler continued:
The Capitol and the White House were literally built with slave labor. Our history of racialized violence means that everything white people have, they have in part because they are white. We have to disrupt that status quo. That's what the president meant when he said that racism is part of our DNA. Our DNA has got to be changed.
Butler has authored papers suggesting that stop-and-frisk policing is "torture-lite" among other subjects relating to civil rights.
Like The College Fix on Facebook / Follow us on Twitter
IMAGE: Gregor Maclennan/Flickr