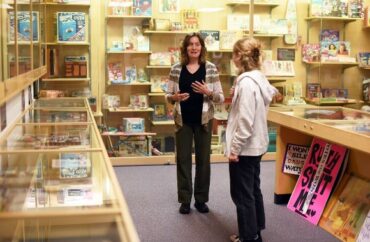 'We also developed new themes, such as Silencing Women and LGBTQ+, that were designed by Ferris students,' museum lead faculty said
A feminist historian and a DEI vice president at a public university in Big Rapids, Michigan, have assembled a "museum of sexist objects" inspired by a preexisting museum focused on racism.
The Museum of Sexist Objects at Ferris State University "began when David Pilgrim, the Ferris Vice President for Diversity and Inclusion [and] founder of the Jim Crow Museum, started collecting sexist objects in the 1990s, which made sense due to the interconnected nature of sexism and racism," museum lead faculty and Ferris State history professor Tracy Busch told The College Fix in an email last Tuesday.
The Jim Crow Museum of Ferris State University, whose collection inspired the feminism museum, "is the nation's largest publicly accessible collection of artifacts of intolerance," according to its website.
The Fix emailed Pilgrim for comment over the past two weeks. He has not responded.
Busch told The Fix that the museum is "not only interdisciplinary and intersectional, but also intergenerational."
"We also developed new themes [at the new museum], such as Silencing Women and LGBTQ+, that were designed by Ferris students," Busch (pictured) said.
The museum "has accomplished its vision by increasing awareness of the damage that sexism causes to not only women and girls, but also to men and the LGBTQ+ community" she wrote.
"I want people to know that we are the only museum of our kind in the United States," Busch said. "We are also looking to expand to a larger space, if we can find enough funding."
The museum website states its mission is "to be a leader in raising awareness and inspiring activism in response to everyday items that promote sexism, gendered violence, and female stereotypes."
Current exhibits are titled "Gender Roles" and "De-humanization and Objectification," according to the website.
Prof. Busch "began the museum while teaching a global women's activism class, and this semester they started an intergenerational storytelling community," Michigan station 9&10 News reported earlier this month.
"We also have a traveling exhibit, so anybody who wants to maybe a library that wants to have conversations about sexism, it's a very good way to do so," told the news outlet.
MORE: Liberal feminism ignores sexual difference: Harvard panel
IMAGE: Ferris Museum of Sexist Objects/Facebook
Like The College Fix on Facebook / Follow us on Twitter